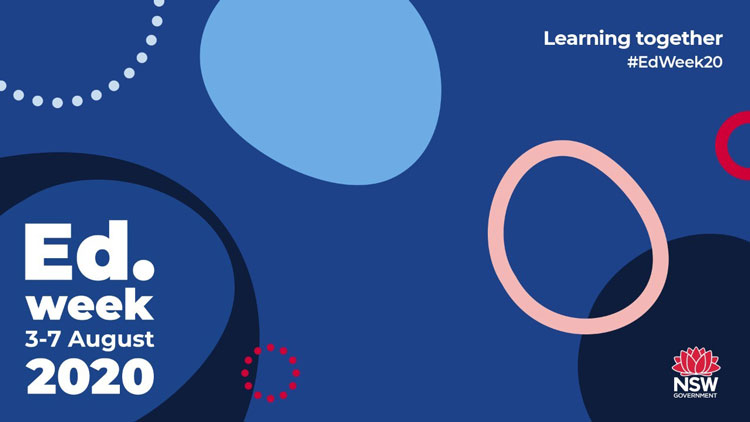 NSW Public Schools will celebrate Education Week from 3rd to 7th August 2020 with the theme of "Learning Together" drawing on the education community's sentiment of 2020.
The theme of "Learning Together" reinforces the role of schools as the corner- stone of the community. With everyone working together to move learning online almost overnight when COVID-19 hit to maintain the continuity of education during the restrictions.
At Canowindra Public School Education Week celebrations will look a little different this year, with everything going online including:
• Monday 3rd August – EdWeek20 launch video live stream at 10am
• Tuesday 4th August – An Aboriginal languages webinar for all ages at 10am plus other surprise events throughout the day for National Aboriginal and Torres Strait Islander Children's Day.
• Wednesday 5th August – A 60-minute virtual student film festival featuring the best 'Film by … Aussie Kids' videos and a word from patron, Bryan Brown, at midday.
• Thursday 6th August – A special webinar for parents and carers on the technology commonly used in NSW public schools, presented in partnership with the NSW P&C at 7pm.
• Friday 7th August – 'In conversation with Mark Scott' – a conversation between the Secretary and secondary students at 9.15am.
The staff and students at Canowindra High School are planning to celebrate Education Week with students from different year groups providing daily insights into the theme "Learning Together" at the morning assembly.
Although the school cannot have formal whole school assemblies they will be celebrating the students learning during two short get-togethers to present merit awards from semester one.
Cargo Public School will be celebrating Education Week differently this year due to the Coronavirus restrictions but will be sharing the photos from their celebrations on their Facebook page, website and also in the newsletter.
During Education Week, Gooloogong Public School students will be showcasing a different aspect of their learning each day on the school Facebook page; the school leaders will also be interviewing each of the Kindergarten students and staff members. This will also be in a digital format.
Gooloogong Public School is also excited to announce that they have a new Principal, Mr Nick Doyle was appointed to the position in a permanent capacity at the end of Term 2. Nick is excited to be leading such an incredible small school.
Education Week is an annual state-wide celebration of public education, which has been held for more than 50 years. This year's events will run from Monday 3rd August to Friday 7th August, with a focus on opportunities to celebrate virtually.