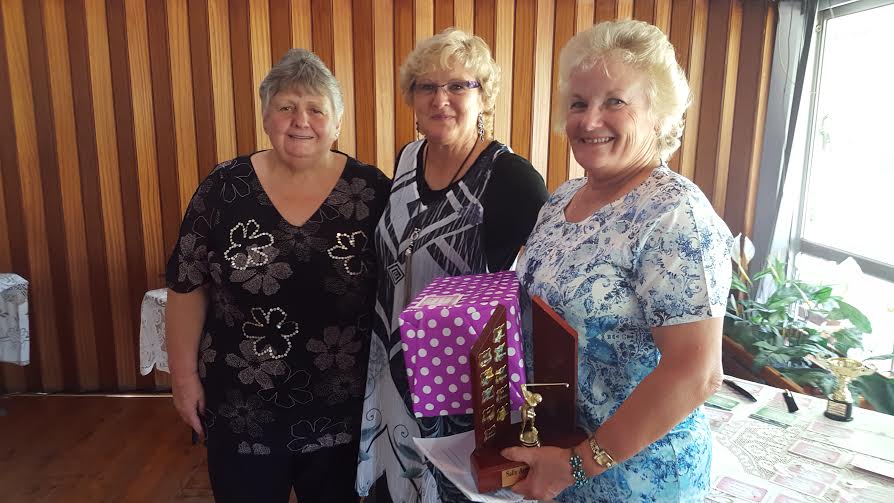 On Wednesday 25 November, the Presentation Luncheon was held with plenty
of scrumptious food and an abundance of chatter as the competition closes for 2015.
Awards Roundup – Our Club Champions this year: A Grade Roslyn Partridge, R/U Helen Kemper. B Grade Julie Fairley, R/U Helen Constable. C Grade Margaret Sharp, R/U Edna Hughes.
Congratulations to these champions and the following recipients:
Best Nett Score over championship: J Fairley.
Foursomes Championship: Winners H. Kemper & R Partridge, 2nd A.Thomas & E.Wilson, 3rd H.Constable & R.Ward.
Veterans Championship: Div 2 Scr E. Wilson, Nett J.Fairley. Div 3 Scr A.Cassidy, Nett M. Lawrence. Senior Vet H.Constable. Forsythe Cup: E.Hughes & H.Kemper. Lawford Cup. H.Constable R/U T.Bliss. Eileen
Garnsey Memorial Salver E.Wilson R/U H.Kemper. Isabel Carmen Consistency Memorial Trophy, J. Middleton.Nancy West Memorial Trophy, Tie H.Kemper & R.Partridge. Sally Apps Memorial Trophy, R.Partridge. Elsie Hargraves Birdie Board, R.Partridge.1 Putt Event, H.Constable. Legacy
Cup E.Hughes. Charity Cup, J.Chyrstall. Goodwill Plate, E.Wilson. Northcott Spoon, J.Fairley.
WDLGA Spoon: Div1 R.Partridge, R/U A. Thomas. Div2 H.Kemper, R/U F.Thomas, Div 3 E.Hughes, R/U T.Bliss Golf NSW Bowl, H.Kemper & R.Partridge. Golf NSW Medals: Div1(tie), H.Kemper & R.Partridge, Div 2 H.Constable, Div 3 E.Hughes. Medal of Medals, R.Partridge.
Best 10 Nett scores, H.Kemper.
WDLGA 4BBB Par Event, E.Wilson & A Thomas. Mabel McKenzie Brooche: Div 1 R.Partridge, Div 2 H. Constable, Div 3 T.Bliss, Senior Vet M. Sharp. 1st Eclectic, A.Thomas, 2nd Eclectic R.Partridge. Best Nett Score of the year (Tie) R.Partridge & E.Wilson. Point score, H.Kemper. Stableford event, R.Partridge. 4BBB Stableford, A.Thomas & E.Wilson. Most Change holes over eclectic,
E.Hughes. Most Improved player, A.Cassidy. Gobbles event, H.Constable. 9
hole gobble, A.Cassidy. Most travelled player, H.Kemper. 9 hole handicap A.Cassidy.
Thank you to all of you that sponsored these trophies. Again we would like to thank the club and the greenkeeper for making golf "easy" and enjoyable. Our Summer Smash will commence on Wednesday 2 December with tee off at 7.30am 15 holes – $15. Any queries, please phone Helen Kemper on 6344 1757. Wishing everyone good health over the summer break. You'll be hearing all our news again in early February 2016.