The Phoenix team were spoilt rotten on their trip to Wellington last week thanks to Tourism Manager, Kellsey Melhuish. Kellsey was kind enough to show us around, revealing that there's much more to Wellington than just caves…
After a year of hard work and an extensive refurbishment, The Cow and Calf is open for business! Kelly, the new licensee, was
a former pastry chef and has brought her skills to the Cow and Calf kitchen. The entire building has received a new look, with black and red décor in the restaurant and hotel areas and high, wooden benches in the bar. The pub also has a large, modern conference room, complete with projector plus 20 guest rooms, perfect for people who want to stay in a clean, modern hotel for a budget price. The bar is decorated with quotes from the hilarious movie classic, Anchorman, cow skin chairs and glass topped tables and leads out into a spacious smoking area.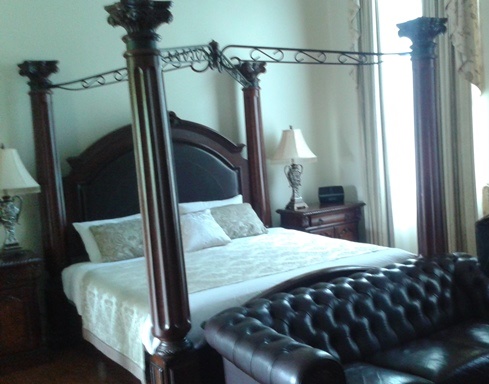 Hermitage Hill sits as a sentinel on the hill overlooking Wellington. The boutique country retreat and function centre was constructed in 1904 as a hospital. Owner Nigel Logue has worked at the Dorchester in London, the Sheraton in Perth and has opened up around 8 hotels over the course of his career and now has managed create the perfect country getaway, "we saw the potential of Wellington; it's the geographical centre of the Central West, the hub of the wheel!" he says. Giving us a tour, Nigel shows us the kitchen (formerly the operating theatre) and the guesthouse which was the nurses' quarters (now adorned with rich cream and golden décor, disabled facilities and king and queen beds.) There is also a former isolation ward, which now comes complete with a luxurious four poster bed. Sitting down to have dinner in adjoining restaurant 'The Grange' Kellsey tells us that the dining area used to be the children's ward where her dad recovered from a broken leg! The building is French colonial in style and looking through the wooden slat blinds to the palm trees outside we could be sat in Singapore.
Marilyn has been the proud owner of the Cactus Café for 16 years. A former school built in the Spanish mission style, the entrance transports
you to a shaded school yard in Mexico. "We wanted the name to reflect the style" says Marilyn, "my daughter Beck had been to Mexico and we were brainstorming ideas. We kept coming up with Santa Fe or La Cruz but they just didn't fit, then someone suggested cactus!" and as the saying goes, the rest is history. "People began giving me cactus for the garden" said Marilyn, "the building was also originally white so we caused a bit of controversy when we painted it orange." The colours are part of what makes the Cactus Café such a joy to visit, earthy ochre walls and tiles mixed with cool blues warm a coffee drinker's soul. Outside you can sit on rustic wooden benches while being watched over by a  the Virgin Mary. Inside, you can shop for trinkets, clothes, toys and jewellery while waiting for your fresh juice or coffee. The Cactus Café's hi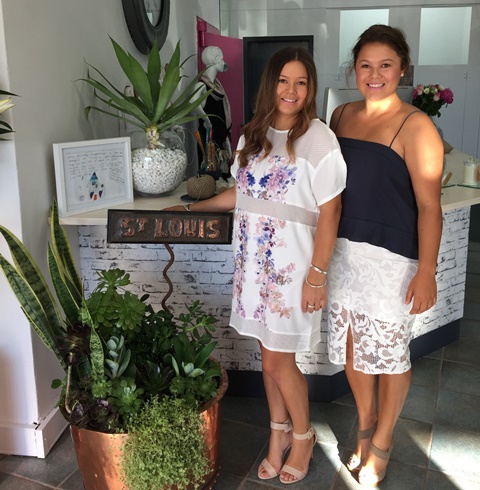 story is weaved with Marilyn's, adding an extra element hard to find in chain shops, "five of my siblings went to school here and now one of them is my barista!"
Twin sisters Kate and Abbey Lousick opened up St Louis Boutique for business in Wellington two months ago. Abbey, who is a former teacher and Kate a former Health Worker, had a shared lifelong dream to open up a business that reflected their love of all things fashion. "Our motto was, 'if not…when?'" says Kate, "We finally worked up the courage and opened St. Louis Boutique." Emblazoned above the entrance to the changing rooms is the saying 'a smile is the prettiest thing you can wear' which perfectly reflects the personalities of Abbey and Kate and the friendly vibe of the shop. The name St. Louis is the fusion of inspiration from their Dad, who is nicknamed Louis and a copper sign they found 3 years ago in a little antique shop in Millthorpe (pictured below next to the girls). The shop includes labels such as May the Label, Steele, Three of Something, Staple the Label, Finders Keepers, The Fifth Label, Style Stalker, Zed Alliance, M. A. Dainty, Ollie & Max and many more beautiful brands… plus jewellery, accessories, gifts, home wares and beauty products. "We didn't want to restrict the shop to a certain age group, we want our products to be appealing to a wide range of people," said Abbey. Before leaving we couldn't resist buying a pair of hot, neon green earrings, we're sure you won't be able to resist either!
Yahgunyah Cottage is the newest of a set of beautiful, self-contained dwellings in the heart of Wellington. It features 3 large queen rooms (2 with ensuites) and a triple single room, which sleeps up to nine people. The communal areas are open plan giving the cottage a spacious and airy feel. Perfect for a family getaway or a romantic break, yet close enough to the town centre to grab anything you need before you shack up.

If you want to discover the 'hidden gem of the Central West' that is Wellington, events coming up include a Vintage Fair on 1st March (where men can search for the elusive part of their antique thing-gummy they hide in the shed) The Wellington Boot horseracing from 28th March and an Art Photography Textiles Exhibition by Kim Goldsmith from the 13th to 15th March. Add to this the beautiful historic walks in and around Lake Burrendong and you'll be spoilt for choice in Wellington. Thank you Kellsey for showing us around!
By Rhi Quinn