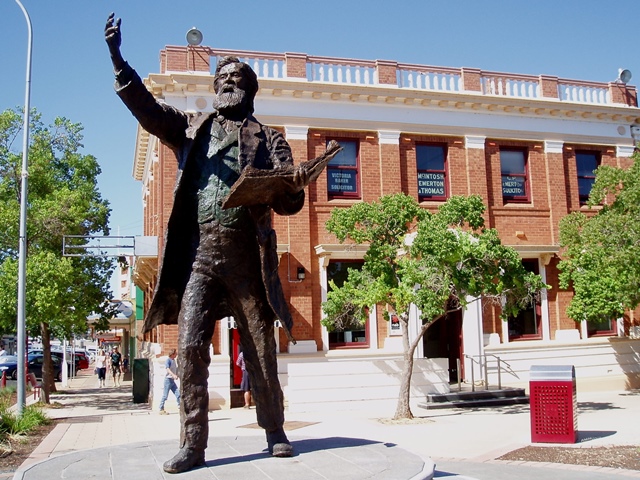 Whether it's taking in the magnificent views and fresh air at the Goobang National Park, marvelling at the sunset from Memorial Hill or discovering hidden treasures in arts and craft stores, Parkes Shire has plenty on offer.
A new website has launched – the place to find out up-to-date event and tourism information – urging visitors to "Discover the Magic of Parkes Shire". It includes a promotional video offering a snapshot of what you might experience during a trip to Parkes.
Learn about the history, click through an events calendar and download suggested itineraries for your trip. For more information head to www.visitparkes.com.au or call the Parkes Visitor Information Centre on 02 6862 6000.
If you need a room to stay the night, The Station Motel has 38 4 Star rooms for the weary traveller or the visiting corporate. Contemporary décor and modern amenities display a sophistication not often seen or expected in country motels. The Station has a unique Australian feel that will meet your expectations in comfort and style.
This venue is ideal for both the leisure and business traveller, with space to host conferences, free Wi-Fi and a fax/photocopy station. The restaurant menu features locally sourced produce and is open to the public as well as in-house guests, catering to a variety of tastebuds with modern Australian and International cuisines. Check them out online.
With cool music, trendy décor and artwork on display, it's not hard to guess why Onnies is a popular coffee joint – a stylish café, well known for unforgettable food, quality customer service and friendly smiles. Onnies has an inner-city sophistication and trendy vibe that can be hard to come across in the country. This casual and funky venue can cater for functions and special events. Their bold flavours and modern, original cuisine will have you going back for more.
Looking for somewhere to enjoy a morning coffee, pre-dinner cocktails or beers over the football? The Railway Hotel has a diversity that anyone can enjoy. The Railway Hotel offers a fun and friendly environment where people come to relax, dine and be entertained. Enjoy a unique pub dining experience with table service, an extensive cocktail menu and gourmet pub cuisine. Open 7 days a week from 10am until late, The Railway Hotel has a friendly atmosphere, and strives to be the venue where you can find whatever it is you're after. Connect with The Railway Hotel on social media and on your next trip to Parkes, pop in and say hi!
Twenty kilometres north of Parkes, at the base of the world famous Parkes Radio Telescope is the Dish Café. They offer freshly prepared meals incorporating local produce with café favourites like burgers, wraps and soups on the all-day menu.  Signature dishes include beef and red wine pies, and scones with blackberry jam.
Dish Café hosts popular evening meal events throughout the year, offering different menus that are individually wine matched by regional winemakers. They also produce a signature range of jams, chutneys, relishes and dressings for purchase.
The 2-storey glass outlook offers mesmerising views of the tranquil surroundings. Open every day from 8:30 to 4:15 (except Christmas and Boxing Days), this award-winning, licensed venue has a modern ambience to complement functions and weddings in or outside.
Parkes Services Club is the venue with it all. They have a coffee shop with a wide selection of food and beverages and a bistro with specialty nights, daily blackboard specials and an extensive lunch and dinner menu. The Club has facilities to accommodate many types of corporate and private functions or events.
The Club offers a unique and contemporary wedding reception and function venue. Their wedding packages, designed to make each wedding a memorable one, can be tailored to suit the bride and groom. Glass doorways, fairy lights and an outside balcony create a magical oasis which is complemented by a magnificent crystal chandelier. Open daily from 10am to all members and guests.
Twisted River Wines is the perfect setting to hold your next special event, or just a great place to meet with friends. This boutique vineyard near Manildra focuses on producing low yielding, high quality grapes for a medium bodied wine. Twisted River Wines are crisp, bright and vibrant, showcasing a passion for growing grapes which for Helen began as a young child visiting Hunter Valley vineyards, and for Michelle was the realisation that life is short and one must follow their heart. Their first vintage was launched in 2010 and Twisted River Wines have since one a multitude of local and national awards for their beautiful and unique wines.
Fun In Acapulco and Parkes
Get ready to dive into a fiesta of fun next year at the 2016 Parkes Elvis Festival, where enthusiasts gather to celebrate the music, the life and the legend of "The King", Elvis Presley.
From January 6-10, the Elvis Festival will be celebrating the Mexican movie classic 'Fun in Acapulco', a 1963 music-comedy starring Presley as a dreamy boat-hand.
Headlining the feature concert is Donny Edwards, a multi-award winning US Elvis tribute artist travelling direct from Las Vegas. Edwards will perform four high-energy shows, celebrating all eras of Elvis' music.
The Northparkes Mines Street Parade is a highlight, with legions of Elvis themed floats, Elvis and Priscilla lookalikes, marching bands, vintage cars and motorcycles flooding the streets. Also catch the entertainment of the busking competition, and the Wall of Fame ceremony.
The Parkes Elvis Festival has been a highlight of the town since it began in 1993 and the town is now widely known as the "Elvis Capital of Australia".
A sea of sombreros is expected in Parkes from January 6-10 2016, so grab your maracas and get ready for a "splashin' fiesta of a lifetime". Tickets on sale Monday, September 14th. Sign up for updates at www.parkeselvisfestival.com.au