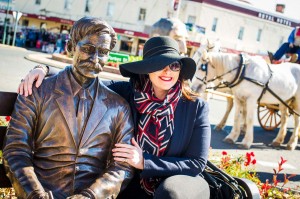 Grenfell is a rural paradise alive with old world character, only an hour's drive from Canowindra. The town has a strong sense of heritage and is proudly steeped in bushranger, gold digger and creative history. Grenfell was named after Gold Commissioner John Granville Grenfell in 1867 who was shot in the groin by bushrangers the year before. Between 1867 and 1869, the Grenfell goldfields were the richest gold fields in NSW, with over 40,000 ounces of gold produced each year.  But most famously, Grenfell is well-known for being the birthplace of iconic Australian writer and poet Henry Lawson who wrote the celebrated poems 'The Roaring Days' and 'The Drover's Wife'.
There are plenty of specialty shops, pubs, hotels and fantastic places to eat in Grenfell, so you are bound to find something you love.
Grenfell Shoes has offered shoes, handbags, luggage and accessories to local and visiting customers since 2004, specialising in C, W and EEE fitting shoes for ladies, children and men. Maria has recently decided to expand her business online and provides shoes for those particular customers who struggle to find the right shoe with the correct fit. Casual, formal and sports shoes are available from a range of popular brands, sourcing the best Australian and international footwear. The customers of Grenfell Shoes appreciate the service oriented experience they receive when visiting the store and using the online service.
The Criterion Hotel is at the heart of Grenfell, and is the perfect place to socialise, catch some incredible live music or enjoy a meal. The friendly and casual atmosphere of this pub is complimented by the building's old charm and would be a great venue to hold functions and parties.
For fantastic flavours, Chris' Bakery sells a range of cakes, sandwiches, salad rolls, tea, coffee and cold drinks, as well as fresh bread, bread rolls and gluten free or sour dough breads. Established in 2012, Chris' Bakery won a bronze medal for the sensational pies and sausage rolls in the 2013 and 2014 nationwide Great Aussie Pie & Sausage Roll Competition. If it's an award winning pie or sausage roll you're craving, why not try Chris' Bakery? It will definitely tickle your tastebuds. For orders ring 6343 2992 or visit the store Monday to Friday from 5:30am to 4:30pm and Saturday 5:30am to 3pm. Chris' Bakery products are delivered to Eugowra, Gooloogong and Cowra.
The Henry Lawson Festival is an annual event which celebrates these historic connections and is now in its' 58th year. The Festival brings an explosion of colour and vibrancy to Grenfell with exhibitions, busking, live music, a street procession, poetry events, guinea pig racing and more! The Festival runs between 4th and 8th of June and is the perfect opportunity to find out what Grenfell has to offer you.