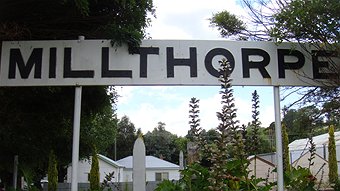 Millthorpe is a 'heritage village with style', ideal for weekend getaways. Let's take a walk around the sunny streets speckled with flowers, starting with the main strip, Victoria Street…
At the top of the downward sloping Victoria Street stands Gerry's pub, The Commercial. What makes this pub different is the atmosphere; you won't find a TV, pokie, TAB or Keno in sight. Instead, Gerry's @ The Commercial focuses on warmth and hospitality, providing a chatty, informal effect. The pub is family friendly, even having nappy-changing facilities, and a children's play area outside. They also cater for seniors, providing $15 lunches on Wednesday, Thursday and Friday. Pop in and Gerry, the owner, will be happy to chat with you about the best local beers on offer or just inquire about your day. You'll definitely be back for more!
New to Victoria Street, Providore opened in March this year. The café showcases regional produce including Canowindra's own Jo Robson's range of sauces. Patti and Ben, the owners, strive to promote small businesses and all Australian products including organic and gluten-free ranges. Customers can pop in and grab a bills beans brewed coffee whilst perusing the array of cheeses, meats, olives, oils, condiments, chutneys and jams, perfect for giftware and presents. "People enjoy giving food as a present" says Patti, "it can make a unique gift for Christmas". Providore is flourishing this summer, with a stylish outdoor seating area where you can sit and watch the world go by.
Tonic, on the corner of Pym and Victoria Street, is a pillar stone of the Millthorpe restaurant scene. An icon and asset to the little village, the family owned eatery infuses warm flavours and local produce. The seasonal menu has a favourable reputation and you can soak up the history as you dine as the building was once a picture theatre. Available to cater for events and functions of up to 150 people, Tonic is an excellent choice for quality food.
Le Billot De Boucher, or the Butchers Block for those of us who aren't versed in French, is a kooky little shop on Victoria Street. Filled with European inspired home wares, provincial furniture and unique, vintage pewter and silverware that wouldn't look out of place adoring the tables of a Parisian Court of old, this shop has a classy Western sophistication fused with bright and colourful surrounds, making it an approachable and exciting place to shop. There are even Salvador Dali inspired 'dripping' clocks which are our personal favourites from the large selection of stock! Walk through the building and you'll come to a shaded garden where you can sit and enjoy a delicious sausage, onion and tomato sauce multi-grain sandwich, served by owner Joey who promises it'll be the "best baguette you've ever tasted!" Oh, and did we mention that there's some new additions to the garden? Stay long enough and you might catch a glimpse of the adorable baby chicks darting through the grass followed by their clucky mum. If you want to know more, or want to get your hands on a Salvador Dali clock, contact Joey on 63663640.
Next door to The Commercial you'll find Angullong Cellar Door. Providing a diverse range of exciting wines including high altitude, cool climate wine. In the bluestone cellar you can learn about the vineyard situated in the foothills of Mount Canobolas, Orange where the quality fruit is grown.
If you stray away from the main strip of Millthorpe, there's a hidden gem tucked away amongst the houses of Blake Street. Tomolly has been going strong for six years, largely thanks to its owner, Belinda's, welcoming and happy personality. A unique home ware and design shop it's chock full of niche market items including locally made jewellery, sauces and other unusual products such as a large flower made of paper covered in musical notes. Belinda is never far from the shop to make sure you get a great experience, her house is just next door! The shop opens out onto her back yard, "it's situated in my own private garden!" she says happily. If you want to get away from the mainstream and search for something a little off the beaten track, this is the shop for you! You can find Tomolly on Instagram at tomollymillthorpe or on facebook.
Twice year in April and December the Millthorpe Markets are held. Beginning in 2005, they are hosted by the Millthorpe Public School P&C Committee and all funds raised assist the school with providing educational needs of children.
The markets are renowned as being some of the best in our region, with thousands of market –goers flocking to the events every year. All kinds of stalls are set up from clothing, jewellery, toys, crafts and woodwork to gourmet produce, cakes, plants and Christmas decorations. The students and staff of Millthorpe Public School will also be on hand, running their own cake and drink stalls. Children will be kept amused with jumping castles, rides, face painting and the Redmond Oval Play Equipment! Entry to the markets is a gold coin donation, with all proceeds going to the local school. After all that stall scrutinising why not check out the gorgeous village that is Millthorpe and all the fantastic commerce it has to offer.
By Rhi Quinn