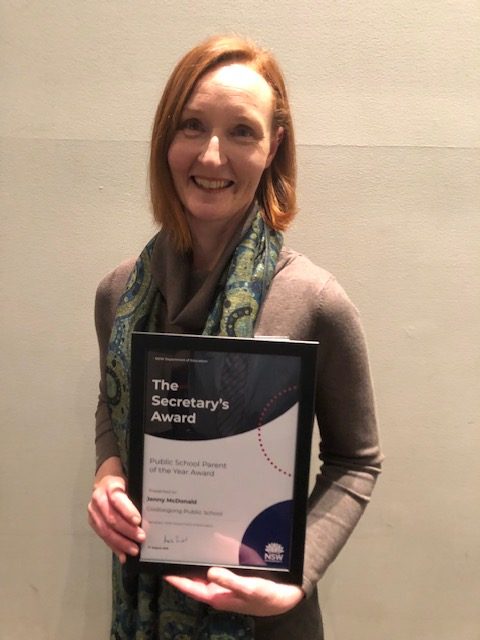 Jenny McDonald a parent from Gooloogong Public School was named as one of the eleven Public School Parents of the Year for 2019 at the NSW Minister's and Secretary's Awards for Excellence last week.
The NSW Minister for Education and Early Childhood Learning, Sarah Mitchell, said "These awards highlight the tremendous contribution that students, teachers, principals and the school community make to public education in NSW as we strive for learning and teaching excellence."
Jenny McDonald is an outstanding parent who exemplifies the core values of Public Education in NSW. Her dedication to ensuring students from the small country town of Gooloogong receive authentic learning and extra-curricular experiences is second to none. Jenny's day to day willingness to help and support the school showcases her absolute selfless persona.
She leads the Gooloogong Public School P&C with respect and dignity and has been a key voice in school planning and projects for seven years now.
"To be honest, I feel very humbled to have even been nominated for such a prestigious award and it was certainly an honour to be 1 of 11 recipients named across the state as Parent of the Year! There are a lot of parents making amazing contributions to education," said Jenny.
"I strongly believe, that fostering partnerships between teachers, parents, community and the students themselves helps to create and deliver optimal opportunities for our kids to do and be their best."
To me, these awards for excellence show that the NSW Department of Education also understand and appreciate the importance of these contributions and the impact they have on learning, sustainability and student growth," continued Jenny.
"We have a wonderful team at Gooloogong Public School and I'd like to thank them sincerely, for their willingness to openly value and encourage input from everyone. They continually work hard to provide our kids with quality education and many valuable learning experiences," said Mrs McDonald.