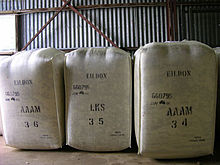 Week 46 saw 35,020 offered, with each centre performing a little differently. The Southern Market experienced more corrections with most types and descriptions suffering decreases of between 15-30 cents, the Northern Market was relatively firm with most types trading within 5-10 cents of the previous sale, while the Western Market went against the trend and actually managed to gain some ground.
The skirting market was driven by VM again this week, with lots containing less than 3.0% VM gaining 10-20 cents, while high VM lots were irregu- lar tending cheaper. The cross bred market experienced mixed results with 26.0 micron and finer generally 5 to 10 cents dearer while 28.0 micron and coarser fell by 10-15 cents. The limited selection of oddments were fully firm for the week.
Anecdotal reports suggest that the amount of wool being received into brokers stores has greatly reduced over the past fortnight, this is also evident when looking at the Five Week Forecast which shows that quantity is expected to quickly decline.
Source: AWEX