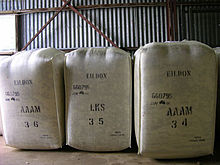 The NRI gained 31 cents to finish the week at 1636. The record prices have brought previously unwilling sellers to market, pushing the amount of wool being held in broker's stores to his- torical lows. 18.5 micron and finer enjoyed gains of 60‐100 cents however towards the end of the last selling day the Fremantle market showed signs of softening in the 20.5 micron and broader range, with some types eas- ing up to 25 cents (the price differentials between 18 and 21microns now stands at over 700 cents).
The skirting market closely mirrored the fleece market with general gains across the board, with the finer mi- crons experiencing the largest gains. The crossbred market again performed well, with 25.0 to 26.0 microns improving by 10‐30 cents while other descriptions remained unchanged. The odd- ment market struggled to maintain its current high levels and generally lost 5‐15 cents for the week with finer bet- ter types least affected.
Next week sees over 51,000 bales on offer.
Source: AWEX