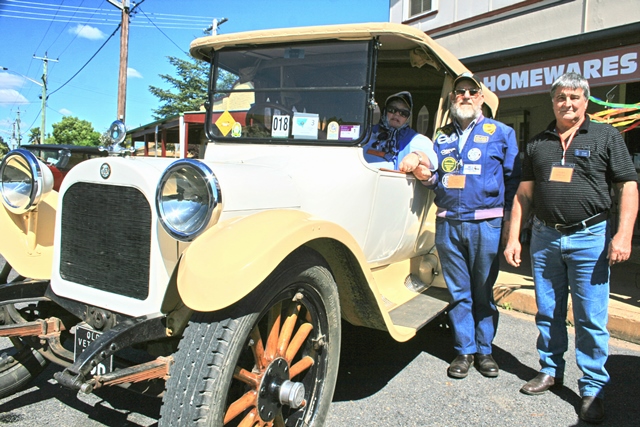 You could have called Canowindra "Dodge City" last Saturday as no less than 101 beautifully restored Dodge cars dating back to World War 1 paraded about the town.
The antique vehicles, ranging from old flat-backs from 1914 right up to the sleek swept-back curves of a green 1933 DDP Salon, looked right at home in Canowindra's heritage architecture, reminding residents what our streets looked like in the glamourous days of faded black and white photography.
The cars were driven by members of the Dodge Brothers Car Club of Australia who are celebrating the 100th anniversary of the iconic American-born vehicle, and members came from all states of Australia and even New Zealand to take part in the centenary road trek.
After being on the road for six days they spent a night in Canowindra before resuming the journey Saturday afternoon through Forbes and Parkes.
Typical of the precious models were a 1914 Dodge driven by Keith and Anne Bartley from Dalby in Queensland and their friend Stuart Westerman's 1928 black coupe that looked reminiscent of those that careened and screeched around the streets full of hoods blazing away with Tommy guns in Chicago's infamous gangland crime days.
All in all, the visit topped a year in which everything from restored antique motorbikes to Cobra touring race cars to cancer charity vehicles with blaring bells, horns and whistles and, of course, the annual Camp Quality Tractor Trek, have poured into Canowindra.
Dodge was founded as the Dodge Brothers Company in Detroit in 1900 and supplied parts for other auto-makers until it began building its own vehicles at the start of the Great War. It was sold to Chrysler in 1928.
By Derek Maitland
IMAGE: Keith and Anne Bartley and their 1914 antique with (right) fellow Dodge enthusiast Stuart Westerman.