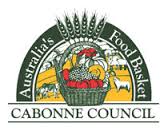 Community groups in Cabonne have only until the end of this week to submit projects that may be suitable for funding under the second round of the NSW Government's Stronger Country Communities Fund grants program.
The Government is providing funding for projects to make communities more attractive places to live and work. New infrastructure, such as parks, playgrounds and cycle tracks, are being earmarked, along with refurbishments to existing facilities including community centres and libraries. Enhancing local parks and supporting facilities, such as kitchens and toilet blocks, will also be considered.
There is no cap on the cost of projects, but each must be worth at least $100,000. Projects must be submitted through Cabonne
Council which will prioritise them and submit applications to the Government. Projects should be submitted to the Council before 5pm this Friday 2 February 2018. Proposals that are "shovel ready" are likely to be given a high priority.
Cabonne Council's Community Engagement and Development Manager Dale Jones said this was one of the most important aspects
for community organisations to keep in mind. "Your project should be ready to commence immediately after any funding announcement and, in most cases, this means all planning requirements, such as development applications, should be completed or substantially under way," Mr Jones said.