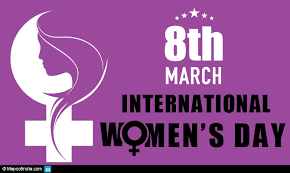 International Women's Day (March 8) is a global day celebrating
the social, economic, cultural and political achievements of women.
The day also marks a call to action for accelerating gender
parity.
International Women's Day (IWD) has been observed since
the early 1900's – a time of great expansion and turbulence in
the industrialized world that saw booming population growth and
the rise of radical ideologies. International Women's Day is a collective
day of global celebration and a call for gender parity. No
one government, NGO, charity, corporation, academic institution,
women's network or media hub is solely responsible for International
Women's Day. Many organizations declare an annual IWD
theme that supports their specific agenda or cause, and some of
these are adopted more widely with relevance than others.
The theme for this year's event is #PledgeforParity and International
Womens Day will be celebrated locally at the Canowindra
Bowling Club on Thursday 10th March and will include a two
course lunch catered by Tommy Jeffs, fashions by Saffi, and special
guest speaker Tara Scott, an Ambassador from One Girl, the
charity we are supporting. This charity is committed to educating 1
million girls across Africa by 2020.
Liz Mitchell from Saffi is proud to support International Women's
Day and will join the celebrations by holding a fashion parade,
providing a sneak peek at some of the new Autumn fashions arriving
in store. Hot off the press will be Aussie favourite Toorallie
knitwear, featuring new season colours and styles.
Owner of Saffi, Liz Mitchell said, 'I believe that it is important
for people to understand how they can make an impact on the
lives of other women through fashion. One of Saffi's most popular
labels 'CAKE' is an ethical company that supports women in India.
CAKE founder Helen Byrne oversees production of garments in
Jaipur, ensuring that workers receive fair wages in fair conditions
with fair practice within the factories. Helen works closely with her
employees and relishes learning about their history and family traditions.
She is a strong advocate for anti-slavery within the fashion
industry. Liz says she is excited to be involved in retailing these
garments, knowing they are ethically produced."
Tickets are $40.00 per person and can be purchased from the
Canowindra Phoenix or Saffi. Grab your friends and come and
enjoy a fantastic days with lots of goodies to be won.