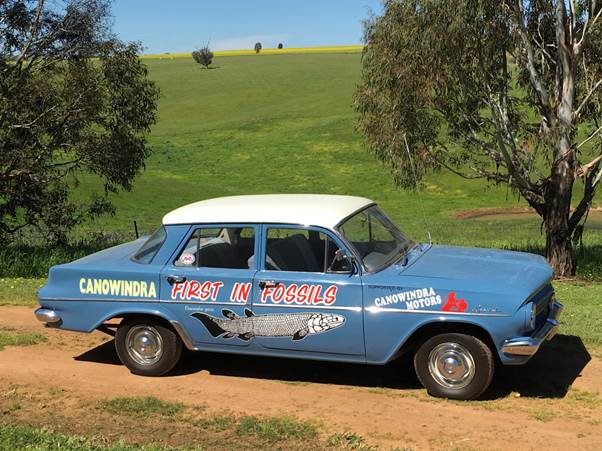 On Sunday the 2nd of October the Iconic Canowindra grossi car went under the hammer at Charlie's auction. The 1963 Holden Sedan with the Age of Fishes Museum logo emblazoned across the side sold for $12,000 to the proud owners Denese Smith and Ken Saward of Canowindra.
The car was originally used to gather momentum for the major fish fossil dig in Canowindra in 1993, and after being parked outside the Council offices for an extended period of time, lead to the creation of the Age of Fishes Museum. Through the dedication of many locals and Charlie's idea to have this car to promote the fossils in Canowindra lead to what is now the only dedicated fish fossil museum in the southern hemisphere.
This car has become a part of history not only to the Age of Fishes Museum but the town of Canowindra too, as it holds so much importance in getting Canowindra's history recognised. Denese one of the proud owners of the Fish Fossil car has been a long-time volunteer for the Age of Fishes Museum and could not live with the possibility of losing such an important part of the local and
cultural history. Denese and Ken plan to make the car available to the Museum for promotion and exhibition.
"We are very happy that this important cultural heritage item has remained in Canowindra and we are proud of the community support received. We are especially grateful to Denese and Ken for their incredible community spirit. We literally couldn't have done it without them," said Warren Keedle, manager of the Age of Fishes Museum.
A permanent exhibition is being created The iconic Canowindra grossi car at the Age of Fishes Museum to retell the history and the importance of this iconic vehicle in the development and town culture of the museum. The Age of Fishes Museum look forward to helping to preserve the town's history.