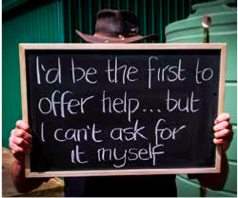 Knowing how to speak to farmers to gain their trust and engagement is key to protecting the mental health of one of Australia's highest risk of group suicides.
New research from the University of South Australia assessed the difference between farming and non-farming adults to examine what stops them from using mental health services.
"What we really wanted to pin down with the study was, do farmers have a really different set of values and circumstances that might put up barriers to getting help when they need it. Evidence suggests rural Australians prefer to seek non-professional support to manage health concerns, and they have a real desire to be independent and maintain pride, all of which may delay or even stop them from seeking mental healthcare or support," said Melissa Hull.
Farming can be a very physically and psychologically demanding occupation, being a high stress industry, impacting greatly on their mental health.
Communication often becomes a barrier in rural Australia with the stereotype of self- reliance and stoicism. With a preference to seek help from family and friends rather than professionals it is recommended for those people to then seek the advice that that person needs to ensure the safety of that individual.
Signs to look out for when someone is facing a mental illness.
Behavioral: inability to achieve tasks, poor concentration, social withdrawal, dis- interest in normal tasks and reliance on alcohol.
Emotional: feelings of sadness, guilt, frustration, defeat.
Thoughts: Feeling like a burden on oth- ers, worthlessness and a sense of failure.
Physical signs: disrupted sleep, head- aches, fatigue and digestive issues.
The most important thing is to just talk to someone. You can call Beyond Blue day or night, available 24hours a day, 7 days a week on 1300 22 4636. You can chat online from 3pm-12am 7 days a week or email Beyond Blue at any time of the day, just to have a chat. For an emergency or an immediate risk of harm you can contact 1300 659 467 or contact lifeline on 13 11 14.
There are a number of other services to contact as well, which are all dedicated to understanding, preventing and treating mental illness. Make mental illness a topic to feel comfortable to talk about.