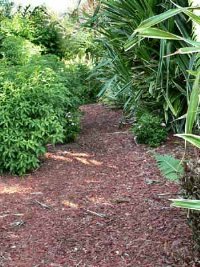 The onset of warm, dry weather across our region in recent weeks prompts me to discuss a fairly basic, but in my view, crucial aspect of gardening-mulch! All bare soil in garden beds in my garden are now covered in hay or straw mulch and I have long been convinced that this is essential for a healthy, productive and attractive garden.
Mulch serves several purposes and the benefits will vary depending on your soil type, climate and what you're actually trying to grow in the garden. However, in general, mulching the soil in your gardens will reduce extremes of soil temperature, reduce moisture loss and supress weed growth. Mulch also has the potential to improve the structure and fertility of your soil as it breaks down and increases soil organic matter and improved soil biological activity, particularly worms.
My favourite garden mulches are pea straw (grain legume crop residue, baled after grain harvest) and lucerne hay or chaff. In my view these mulch types have the most beneficial impact on soil health and plant nutrition in the long run. Not all gardeners can access these types of mulch, so other options include sugar cane crop residue which is chaffed and bagged and available in many nurseries. Other options include wood chips, newspaper, lawn clippings, chopped garden prunings or composted food waste or animal manures. Some of these (particularly wood chips, pine needles or fresh lawn clippings) can actually reduce some plant nutrients in the soil or contain some chemical compounds which may reduce plant growth. It's best to use aged or composted forms of these mulches and apply a nitrogen rich fertilizer when mulching.
The right depth or thickness of mulch depends a bit on what you are using and growing, but 5 to 7cm thick coverage of the soil is recommended and it's best to apply the mulch after rain or watering the soil.
By Ian  Rogan- Milthorpe Garden Nursery