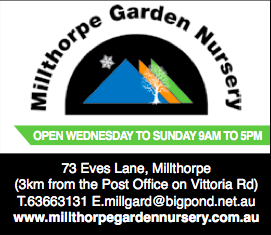 Many of our nursery customers have only small garden spaces available for new plantings, but many also want to increase the food production from their gardens. The theme for this month's Green Thumbs is fruiting vines, bushes and small trees that can be grown in pots or small spaces in your garden.
My two most popular, small fruiting trees at the moment are pomegranates and figs. Both grow to about 3m and are well suited to our region's climate. I have always said that there is nothing better to eat than a ripe fig picked from the tree in your garden and eaten on the spot. Black Genoa and Brown Turkey are the two most popular fig cultivars for our area. Mollar de Elche is the pomegranate cultivar that seems to go best.
There are also a wide range of citrus trees available that are grafted on to dwarf root stock and grow to about half the size of normal citrus trees- including lemons, limes, oranges and mandarins. Many of my nursery customers in heavy frost areas are successfully growing dwarf citrus trees in large pots in protected spots around the garden.
Dwarf stone fruit trees such as the Trixzie peach and nectarine trees, which grow to about 1.5m and pro-duce prolific, normal sized fruit, are becoming increasingly popular. Fruiting bushes well suited to growing in our region are red currants and black currants which grow to about 1.5m and raspberries and blueberries. I recently stocked some thornless blackberry bush plants and I look forward to hearing from gardeners about the productivity of these.
I've always considered fruiting vines such as passionfruit are more suited to warmer climates than our region. Having said that, I hear the passionfruit variety Nellie Kelly regularly recommended for gardens in our region.
Ian Rogan
Millthorpe Garden Nursery