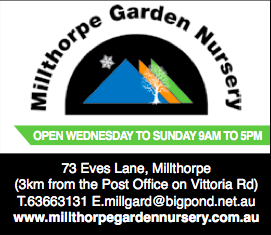 The record breaking low rainfall and fairly heavy frosts we are experiencing across our region in the last few months does not do much for our gardening energy. So, I thought I would address soil preparation and plant nutrition to get ready for the rain and warmth of spring (here's hoping!)
If you are going to start a new garden or you have parts of your current garden where the plants aren't as vigorous and healthy as you'd like, the steps that I would recommend are as follows. Spread aged animal manure (chicken, horse, cow or sheep) over the surface of
the soil and then dig it in. If you can't access these manures, you can buy pelleted chicken manure and sprinkle this over the soil surface. Then cover the soil with about 100mm depth of compost or mulch (my preference, lucerne hay), and let the soil rest for a month or two.
The treatments I have recommended will create a much more favourable environment for soil microbes and worms to begin breaking down the organic fertilizers to produce the nutrients and a better soil structure, physical growth environment for the plants in your garden.
Talking about nutrients for plants, the major elements needed for plant growth are nitrogen, phosphorous, sulphur, potassium, calcium and magnesium. Other elements needed in smaller quantities (micronutrients) are iron, manganese, copper, zinc, boron and molybdenum. Synthetic (non-organic), commercially available fertilizers for farm crops and gardens contain different combinations of these elements and are usually in soluble, granular forms that will give a quicker, short term lift to plant nutrition. So, these fertilizers have a role to play with gardening or cropping on poorly fertile, sandy soils or with plants in pots, but do not have the benefits to soil structure and biological systems. My definite preference, is that we use organic matter and natural soil biological processes to create a nutritious, root friendly environment in our garden soils.
Ian Rogan
Millthorpe Garden Nursery