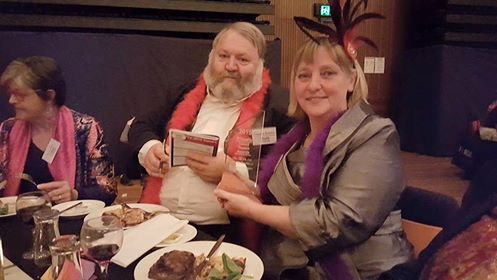 It was a big night for Cabonne at the 2015 NSW Inland Tourism Awards with both Cabonne businesses nominated winning gold in their categories. Old Vic Inn was announced as the winner of the Standard Accommodation category, while Lakeview Luxury Apartments near Orange won the Hosted Accommodation category. The Vineyard Motel in Cowra also received an Encouragement Award in this category.
The Awards were held in Broken Hill NSW over the weekend. The awards presentation on Saturday night was hosted by television celebrity Mike Whitney and the winners were invited to a Winners Breakfast on Sunday
morning. Old Vic Inn proprietors Graeme and Alison Beasley are still enjoying the trip home from Broken Hill but are said to be "pretty ecstatic" about the success of the Awards Night.
"It means we are finalists in the NSW Tourism Awards," said Jennifer Beasley, "so we will be going up against finalists in every area next. If we win that, we will be finalists for the Australian awards." There are more than 20 categories in the awards, including Tourist Attractions, Festivals & Events, Ecotourism and various Accommodation categories encompassing the four major regional areas of NSW; Central, Riverina, Inland and Murray.
The Tourism Judge from Inland Tourism was impressed with the Old Vic Inn after meeting with Alison and Graeme, staying overnight and using the amenities on offer. The Inland Tourism Awards is an annual event that acknowledges excellence in tourism across the four regional tourism areas 
of NSW.