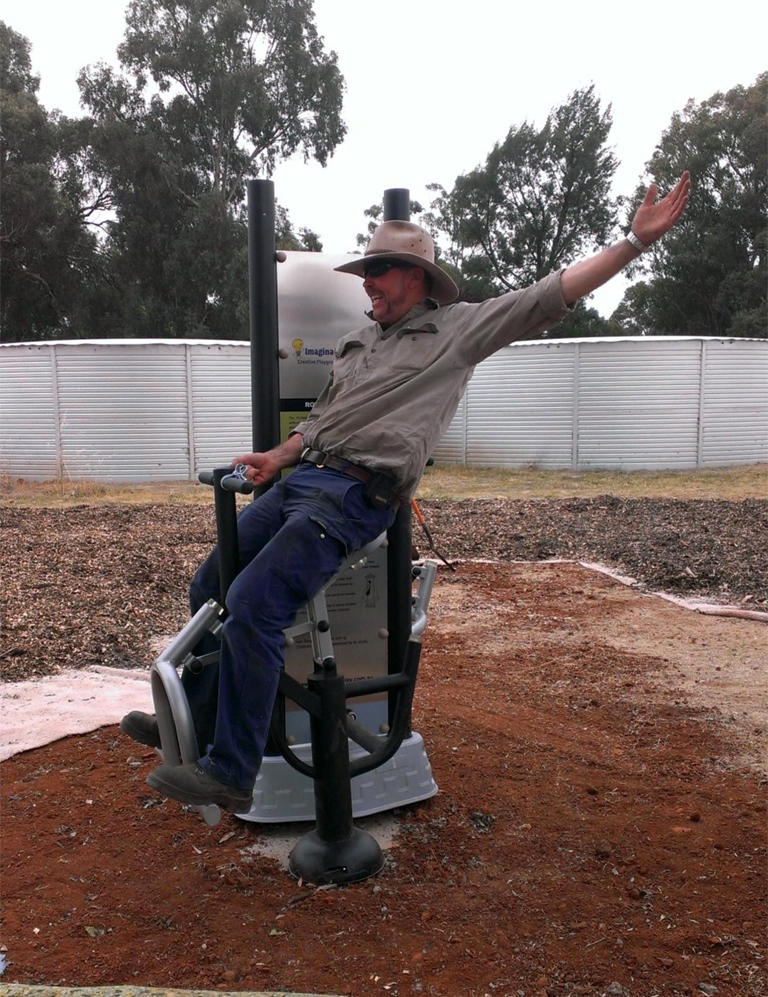 The concept for the Fitness Path formed four and a half years ago when Community Health staff decided they wanted to establish an easily accessible (and most importantly free) outdoor gym and walking/cycling path. The Oval was elected as the best choice due to the large amount of unused space. After lots of community consultation to establish support, a working party was formed. That party included Rob and Margaret Morris, Julie Middleton, David Francis, Graham Rice, Tracy Lamb, Cath Balcombe, Lorrae Barker, Bron Newman and Lana Brown. The party spent the next few years fundraising and applying for grants to purchase the equipment. Sally Bourne, a renowned local landscaper, drew up the plans for the exercise sites. She decided to make each site into a body part including a heart, liver, kidney and lungs which would draw interest and help with grant applications, plus ballooning enthusiasts will get a fantastic bird's eye view!
Now, the Fitness Path is well on its way to completion, thanks to the volunteers that helped with the installation earlier this month. The equipment up and running includes a Royal rowing machine, Royal leg pusher and chin up bars, with each body-part site having equipment for cardio and upper and lower body workouts. "We need to edge and mulch the exercise sites so there's still work to be done" says Julie Middleton. Arguably the most exciting new development is a huge piece of equipment still to come, named the "King Kong". "This is the only one in the entire Southern Hemisphere, we will be known as the 'Town with the King Kong!'" says Julie. We won't ruin the surprise, however this jumbo apparatus will definitely help you get in touch with your inner gorilla. Let's just hope you don't go on a rampage and climb to the top of the Trading Post afterwards!
By Rhi Quinn
photo: Pete Davis says save a horse ride some fitness equipment!