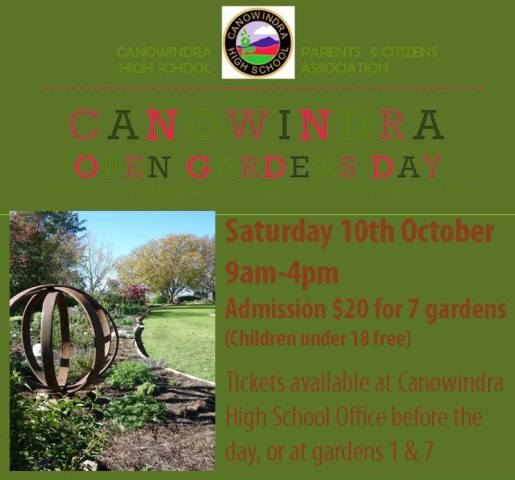 Christine and Richard Nash are pleased to open their garden at Macquarie Fields to the public as part of Canowindra's Open Garden on Saturday 10 October. Many would know Christine as their infant's teacher at the local primary school where she taught for many years. Her garden is a testament to years of hard work creating a habitat in which plants can survive the harsh winds and heat of summer.
You are invited to come and sit amongst the shade of the trees and take in the peace and tranquilitiy, and forget the world outside exists. Kath and Phil Balcomb are well known locals. Kath is a teacher at Canowindra High School and Phil is renowned in the sheep industry. Their garden has meandering paths amongst the fruit trees and hidden delights.
The sound of birds echoes throughout this Garden of Eden. Another garden to delight in is that of David and Jan Harrison. Their home has astounding views of the local area and their cottage garden is as pretty as a picture.
Other gardens include Belmont which features huge majestic urns and old brick pathways. Sussex lacks mature trees, so boulders and sculptures are the theme of this garden. Rutherfield has its own creaking windmill in the middle of the garden and you are welcome to enjoy refreshments here served by
Cudal Preschool.
Oakleigh has been home to Kelvin and Leonie Mitchell for many years and their daughter Sue Beath was married there. This garden has been open to the public on occasions before, but never as part of a collective.
The Canowindra High School P&C are very grateful to the Cranbury community for the once in a lifetime opportunity to view these gardens as a whole. Tickets are $20 and can be purchased on the day or beforehand at Canowindra High School, giving you access to all seven gardens. Find information at www.canowindra-h.schools.nsw.edu.au, on Facebook or contact Ash Wright on 0427 448 480.