CYBER SAFETY is the subject of a Cabonne Council competition to mark Youth Week, which will be held from April 4-13.
With cyber bullying becoming more preva­lent, this competition encourages young peo­ple to relate their own experiences or look at ways to help overcome the problem.
The competition is open to Cabonne resi­dents from 12 to 25 years or students attend­ing any school in Cabonne Shire and incorpo­rates any manner of art or prose, including paintings, draw-ings, photographs, short sto­ries and poems.
Entries close on Tuesday 8 April 2014 and details can be obtained from Council's web­site www.cabonne.nsw.gov.au or schools in Cabonne Shire.
THE AUSTRALIAN working dog is synony­mous with our agricultural heritage, so it is an honour for Molong to host the NSW Sheepdog Championships each year.
The championships have become a key feature of Molong's event calendar and, af­ter the recent rain, the town's Recreation Ground this week provided a spectacular backdrop for the best dogs in the State to demonstrate their skills.
Cabonne Council is proud to provide tro­phies for the placegetters in the NSW Novice Trial and I was delighted to host a mayoral morning tea.
The championships bring many visitors to Molong and our Shire and we encourage them all to explore Cabonne Country and dis­cover what makes it so special.
THE SPOTLIGHT will be on Canowindra next month when parts of the feature movie Stranger-land, starring Nicole Kidman, Jo­seph Fiennes and Hugo Weaving, will be filmed in the town.
Canowindra's historic main street will be the setting for part of the movie, with pro­duction to take place between April 4-11.
Gaskill Street will be closed at times dur­ing this period but the film's producers are working with local businesses and residents to ensure there is as little disruption as pos­sible. Hopefully, the production will provide a valuable boost to Canowindra's economy.
Canowindra's heritage street has been a popular location for film, television and advertising shoots in recent years. It's un­derstood the Strangerland location scouts looked at a number of sites, but couldn't find anything that matched Canowindra's historical character.
THE BELLS LINE EXPRESSWAY and the right to farm are two subjects Cabonne Council may submit as possible motions to the National Local Government General As­sembly in Canberra from June 15-18.
The Australian Local Government Associa­tion is calling for motions under this year's theme "Getting Down to Business". Council will make a final decision at its April meeting on what mo-tions it submits for considera­tion.
Because the conference clashes with the scheduled date for Cabonne's June meeting, the Ordi-nary Meeting will now be held a week later on June 24.
THE DEVELOPMENT of Cabonne's 2014/15 Budget and Draft Operational Plan is well under way and draft documents should be available for public comment and submission by early May.
Community input is important in finalis­ing the Budget, so I encourage all residents to have a look at the draft documents and have your say. Council plans to hold an Ex­traordinary Meeting on June 10 to consider community submissions before adopting the final Operation Plan and Budget at its Ordi­nary Meeting on June 24.
I'M EXTREMELY pleased to welcome Alf Cantrell and Arthur Falconer to the Cabonne Country Tourism Advisory Committee.
They were appointed this week after nomi­nations were called to fill a vacancy created by Fiona Ferguson resignation. Both have ex­cellent credentials.
A long time Yeoval resident, Alf has exten­sive experience in organising and running events and recently opened the Banjo Pater­son Museum in Yeoval.
Arthur has extensive experience in sales and management and has been involved with the Can-owindra Balloon Challenge Group for the past four years.
I wish to thank Fiona Ferguson for her dedi­cation and outstanding contribution to the committee. Her vast experience in the tour­ism industry will be difficult to replace.
A NUMBER of Cabonne organisations have recently received Federal and State Govern­ment grants for very worthwhile projects. Many of these grants were identified in Council's Grantblast newsletter which is pro­duced every two months.
Grantblast can be viewed by going to the Development section of Council's website, then clicking on Economic Development. You can also contact Council to have each edi­tion emailed to you.
If you think there is a suitable grant for your organisation or project and you want further information, please don't hesitate to contact Council's Community Business Development Officer Hannah Dunlop who can provide very valuable assistance.
By Cabonne Mayor, Ian Gosper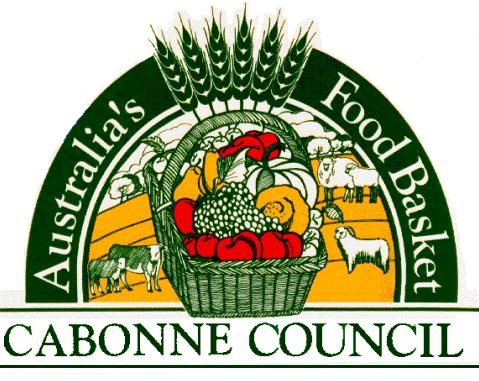 Cabonne Council
101 Bank Street
(PO Box 17)
MOLONG 2866