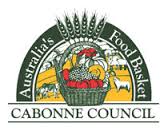 THERE WAS AN AMAZING RESPONSE to the 13 community projects to be submitted for funding under the second round of the NSW Stronger Country Communities Fund.
Just under 1,500 letters of support and petitions were received when public comment and feedback was sought, which should considerably enhance the applications when they are submitted early next month.
The projects, with a total value of more than $3.6 million, range from the expansion of long day care facilities at Molong and Cudal to sporting venue upgrades, major showground improvements and the construction of shared mobility access pathways in various towns and villages.
CLOSED CIRCUIT TELEVISION is being considered for public places in relevant Cabonne towns and villages. Council has formed a working party to undertake a detailed assessment and address the necessary criteria needed to install the technology. This follows an initial request to investigate installing CCTV in the Molong and Canowindra business districts.
The assessment will determine whether there is a need for the CCTV and whether Council proceeds further with project.
MORE COMMUNITY PROJECTS will be funded under the second round of the Council's Community Assistance Program. Applications for projects worth more than $45,000 have been received from organisations in Cudal, Eugowra, Manildra, Canowindra and Molong. Just under $32,000 is available under this round of funding. Applications are being assessed and a report will be prepared for Council's May meeting for Councillors to determine the successful projects. These grants are for not-for-profit groups undertaking projects on non-commercial facilities in the Cabonne Local Government Area. Grants are provided on a 50:50 basis, but communities can provide their half of the funding through voluntary labour or in-kind contributions.
A FURTHER $2,950 HAS BEEN DONATED to worthy causes in the past month, with Council contributing $1,600 to the Canowindra RSL Sub-branch for two seats to be placed in the grounds of Canowindra hospital; $1,000 to Borenore CWA for repairs to the hall kitchen; $250 to NAIDOC Week school initiatives; and $100 to Borenore student Paris Capell to represent the Orange electorate at the NSW Youth Parliament. This brings the total value of donations provided to local organisations and individuals in 2017-18 to just under $7,000.
Council also allocated $1,000 from its Events Assistance Program to Cudal Camp Draft Association for its two-day event to be held later this year and $500 to the Make It, Bake It, Grow It Market to be held in Canowindra on April 27 and 28 to coincide with the hot air ballooning festival.