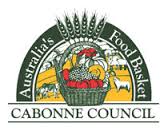 Orana House in Canowindra, which is used for a number of community purposes, will be re-furbished at a cost of $183,743. Work on Orana House will include replacing the roof cladding, replacing the front awning, structural repairs, storm water drainage works, removing and replacing damaged and missing weatherboards and replacing cladding in the enclosed section of the verandah.
The refurbishment will be funded from $230,000 available to renovate the Home and Community Care Building (HACC) and Library in Gaskill St, Canowindra. Members of the Public now have the opportunity to address Cabonne Councillors during a public forum each month. The forums, starting at 2pm on the second Tuesday of each month, are to enable residents to speak about matters within the responsibilities of Council, but not general requests for council services.
The Council will not make any decisions at these forums, which are not public meetings and do not form part of a council meeting. People wishing to address Councillors must lodge an application with the Council's General Manager at least a week prior, providing a summary of the issues they wish to bring to Councillors' attention.
Residents will have five minutes to speak unless granted an extension by Councillors. Guidelines and details of how to apply are on Council's website and Facebook pages, or you can ring the council offices to make an appointment.