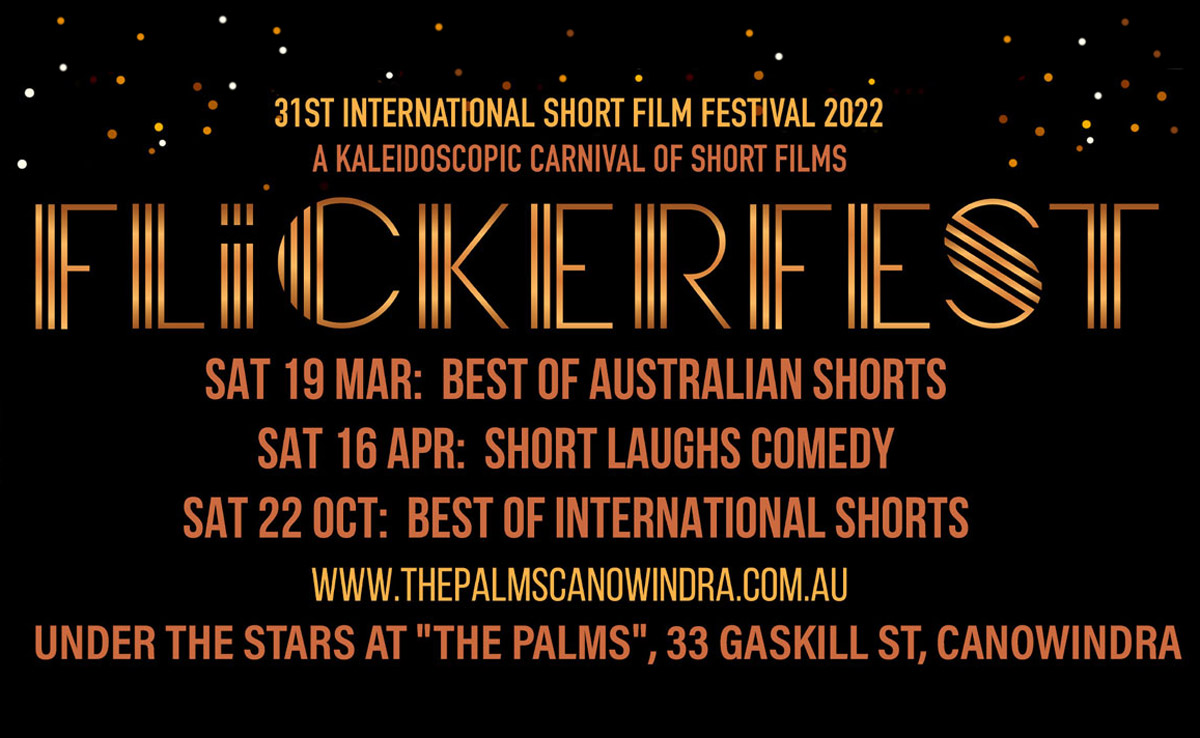 Flickerfest, Australia's largest Short Film Festival is excited to be returning on its National Tour to the 'The Palms' in Canowindra on Saturday 19th March and Saturday 16th April showcasing the Best of Australian Shorts and the Short Laughs Comedy programmes featuring highlights from the recent Bondi festival competitions.
Celebrating 31 years in 2022 Flickerfest remains Australia's leading Academy® Qualifying and BAFTA recognised short film festival, with films hand-picked from the festival's record 3,200 entries
The short films screening are all entertaining, inspiring, award-winning and fresh from their premieres at Flickerfest Bondi, giving the Canowindra Flickerfest audience a window into the hottest contemporary shorts from at home and across the world today.
Highlights from the Best of Australian Shorts include the quirky black space comedy 'The Home Team' starring comedy legend Paul McDermott and acclaimed actress Tara Morice ('Strictly Ballroom') and the fun neighbourly drama 'Stonefish' written by and starring accomplished young Australian Actor, George Pullar and directed by acclaimed actress and first-time director Megan Smart, known for her most recent roles in mini-series 'Wakefield' and 'Peter Rabbit 2: The Runaway.
Doors open at 6pm for drinks and pre-ordered lamb curry dinners or you can BYO picnic. Pre-ordered dinners are made by Andrew Wooldridge from his own sheep which graze the Rosnay Vineyards. Rosnay organic wine will be served, and BYO alcohol is not permitted. Adult tickets include a free glass of Rosnay winel. Tickets are $25 per adult or $15 for U15yrs at www.flickerfest.com.au/tour/canowindra-nsw