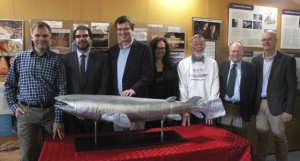 Coinciding with the 60th Anniversary of the discovery of the Canowindra Fossil Fish site, a life-size 3D model of the newly-announced NSW Fossil Emblem Mandageria fairfaxi was unveiled at the Age of Fishes Museum on Friday 14 August. Dr Chris Yeats, Executive Director of Geological Survey of NSW, opened the event followed by an interesting and detailed talk from Dr Alex Ritchie, a palaeontologist who played a major role in the rediscovery and excavation of the Canowindra fossil site in 1993.
Dr Zerina Johanson and Prof. Per Ahlberg, who both worked together on the Canowindra fish fossil studies then unveiled the model to an audience of around 40 attendees who visited from across the country and the world.
Other guests on the day included past and present volunteers, as well as members of the public from Canowindra who were involved from 1993 to the present day in the Age of Fishes Museum and the fossil excavation.
"This is a hugely significant day for Canowindra, NSW and Australia," Andrew Gee said. "We are yet to tap into the huge potential of this fossil site. It's one of the most significant fossil finds in the world and we are very optimistic about the future of the site." The Mandageria fairfaxi fossil was found in the 1993 excavation near Canowindra and is unique to NSW. It was named after a local
creek and joins a list of existing NSW state emblems including the Kookaburra, the Platypus, the Blue Groper and the Black Opal.