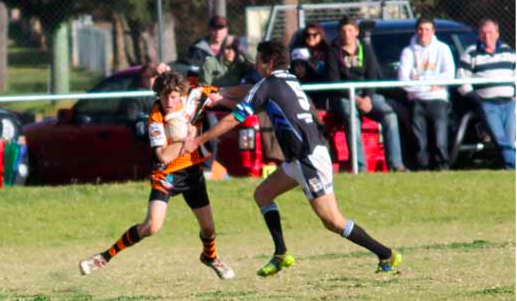 The Canowindra Tigers were extremely proud after their very close game with the Cargo Heelers as they defeated them 13 – 12.
The stakes were high as both teams went head to head to fight it out for a win. Canowindra applied fantastic pressure to Cargo as the Heelers fumbled to the Tigers defence line twice which enabled Matt Mclean and Aaron Earsman to both score run away tries as they grabbed the ball off Cargo's mistakes and ran the field to score.
Once again Canowindra's extremely strong defence line was in action as Cargo gave away a penalty to the Tigers just out from the posts which gave Matt Mclean the perfect opportunity to kick a 2 point penalty.
Cargo came back in the second half scoring another two tries to even the score board to 12 all. This is when Canowindra new what they had to do in order to make a win. With only a few minutes left, Rob Burn took the initiative to attempt for a field goal which was successful. Another nail biting game as the Tigers were able to push through for their fourth consecutive win over a team in a higher position on the ladder.
Cargo are a very experienced team with players that have played together over a long number of years, whereas the Tigers have the youngest First Grade side that haven't had as much experience playing together. A few returned players in the last few weeks has also made a great impact on the team as the older players have the experience behind them to help push the rest of the team to victory.
This week's Players Player went to a Youth League Player Mick Watt on the wing as he caught every ball that was kicked his way and ran it up to make ground for the Tigers. Outstanding to work to Mick as he really fought with his team for a win over the Heelers. The Youth League players that back up for First Grade always seem to push it up a notch as they want to do their First Grade team proud. Notable mention to Matt Mclean for scoring a runaway try and for kicking a perfect 40 – 20, also to Aaron Earsman for his second consecutive runaway try.
This Week's Game
This weekend on Sunday the 13th of July all three grades for Canowindra will travel out to Grenfell to verse them on their home grounds.