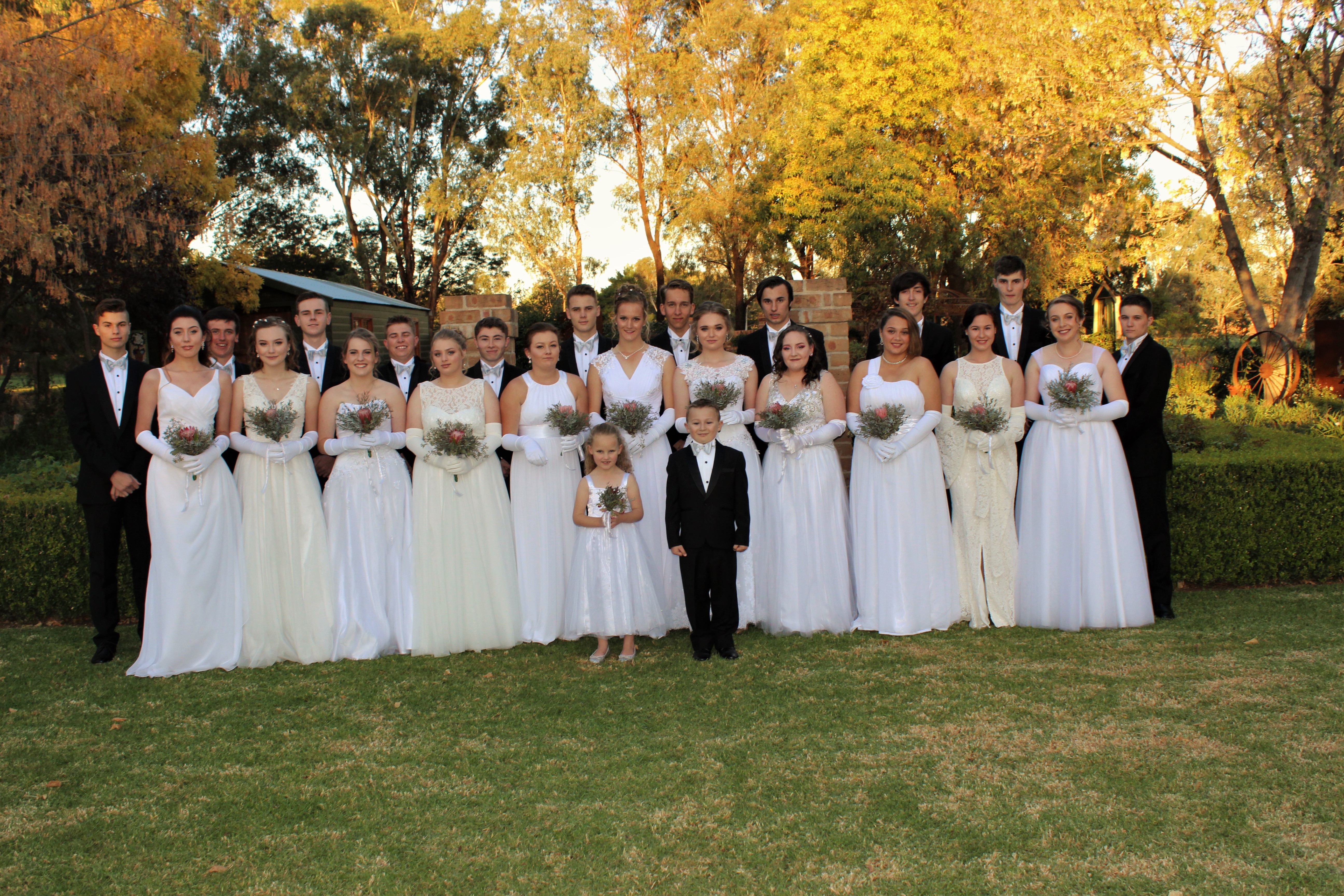 Last Saturday night, 22 senior students of Canowindra High School (mostly Year 11's) finally saw the fruits of our labour. Saturday night was, of course, the 48th Annual Canowindra Debutante Ball, complete with gorgeous Debutantes (Debs) and their handsome partners.
We have spent over two months painstakingly learning our dance moves, working on our timing and learning how to fit ourselves in a picture. The evening was complete with our individual and group photographs, Deb and partner introductions, two Debutante dances (Cha Cha and Foxtrot), a dance with a special guest, speeches and a two-course dinner.
During the night, we had the privilege of having a live band perform, 'The New Normal', who we thank so much for their presence and for making the night memorable! The clock struck 12, and suddenly the night was over, but we will forever remember Ms Gregson's finger dancing, my flossing lessons, Jamie's fantastic dance moves, the boys in their stunning suits and the girls in their fabulous frocks, and of course Ms Davis' all round hilarity.
On behalf of the 2018 Debutantes and their partners, I would like to thank Kylie Bell our wonderful dance teacher, Kristie Springall our fantastic photographer, Lorraine Daly for letting us have our photos in her immaculate garden, Mrs Nola Meggitt for the wonderful bouquets and flowers, Tim Wright and Ken Stanley our strapping doormen, Tommy Jeffs for allowing us to commandeer
his decorations, Anna Stanley and Ash Wright (Canowindra High School P&C) for organising the whole evening and putting so much effort into seeing us have fun. We would also like to thank Kylie Lawrence for being a key player in the sheer magic of the night, and for our fantastic cake, Mr Jones for being our charming MC, Tom Beath for being our guest of honour, 'The New Normal' for putting on such an electrifying performance, several members of staff who attended and shocked us with their youthful dancing, Ms Louise Gregson (a.k.a Louise, Greggo, Mum) for being our guest of honour and Year Advisor, Mother, confidante and most importantly, our friend.
I would also like to take the time to thank each and every one of the Debutantes, their partners and our beautiful Pageboy and
Flowergirl Brayth Kennedy and Bronte Lawrence for being so fantastic in literally every aspect. My penultimate 'thank you' goes to the guests who attended Saturday night's festivities, without you the Deb would not exist.
Finally I would like to thank the Canowindra Services Club for hosting us on Saturday and for allowing us to use their facilities for practice for these last few weeks, as well as the Year 9 and 10 students who waited on tables for the night! I am certain that the night will be one that we will all remember for many years to come.
By Chanse McLean (Year 11)
DEBUTANTES AND PARTNERS:
• Meisha Harris partnered by Blake Livingstone
• Zali Dunn partnered by Alex Flannery
• Georgia Cole partnered by Brendan Livingstone
• Shaleeyah Keliher partnered by Jamie Austin
• Anika Macela partnered by Simon Budden
• Tori McKay partnered by Logan Howell
• Sarah Treavors partnered by Michael Grenfell
• Ella Gruessing partnered by Wade Kinsela
• Molly Maxwell partnered by Hudson Izzard
• Alexandra Pearce partnered by Chanse McLean
• Samantha Melton partnered by Lane Fisher