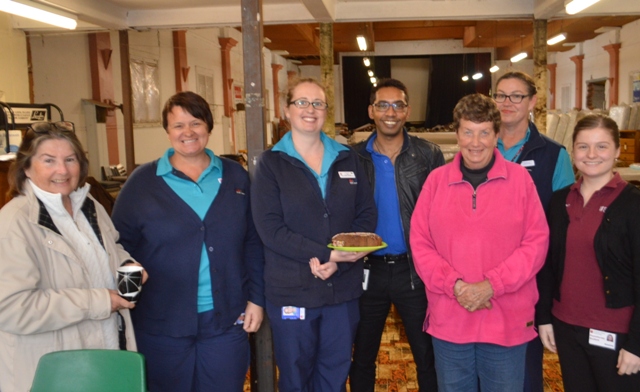 On Thursday Bill Paul's Carpet Centre was the location for a Biggest Morning Tea in aid of raising money for Cancer Council. The day was organised by Health Centre employees including Carolyn Wythes and those getting involved with the day included two students, Breanna from Parkes and Dushyant from Albury. "We're on placement here for five weeks in the physio department at the hospital before we finish our degrees in October," said Breanna; "We can get sent to Tasmania so I was quite lucky to be placed here!"
Breanna and Dushyant patrolled Gaskill Street armed with cakes, cookies and brownies to entice business owners and staff to get involved. "Considering the weather it's been amazing. I didn't think anyone would come out!" said Carolyn; "There's not much food left and we've had lots of jug refills so it's been a successful day. People who came here to Bill Paul's did so because they knew it was on so thank you very much to the community.
We'd also like to acknowledge the support of Billy Paul for letting us use his shop- he's let us invade the space over the years and we're very grateful- and to the Services Club for lending us the tables and chairs."
So far over 27,000 Biggest Morning Teas have been hosted throughout Australia this May and June to raise funds for Cancer Council. One in two Australians will be diagnosed with cancer by the age of 85 so by participating, one dollar at a time, you are making a real difference helping to fund vital research, prevention and support service programmes.
If you'd like to get involved simply register online at www.biggestmorningtea.com.au set your date, get fundraising and most importantly, start baking delicious cakes to go with your cuppa!