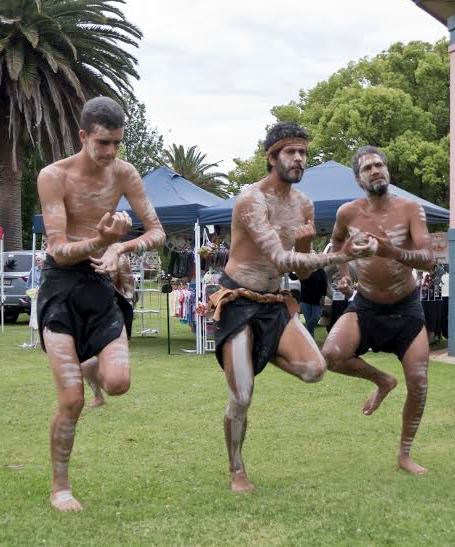 Cowra's Brougham Park filled with people on Saturday the 31st of October to experience Harvest in the Park. A gold coin donation for the PCYC Cowra Gymnastics Club was a small price to pay with everything from homemade wares to a jumping castle available.
Jewellery, clothing, makeup, children's toys, canine accessories, breads, lollies, liquor, jams, fresh fruit and vegetables, homewares and plants, the markets had it all. Included among the dozens of stalls were The Sarbie Collection, Peewee's Bakery, Hippity Hop Kids, K's Collection, Felt with Love, Milla Cordial, The Coffee Van, Just Homegrown, and Origin Organic Chocolate.
This year's newest addition 'The Peoples Pasture', designed by Millamolong, was popular with all ages; chairs, tables and hay bales sprawled across the centre of the action, where everyone was welcome to sit, relax and enjoy.
The market wasn't without its entertainment, with the crowd wowed by the Cowra Corroboree in a sample performance prior to their sold-out performance that night. The traditional Indigenous music seemed to bring the park to a standstill as even stallholders stepped out to watch. When the clapsticks quieted and the performance ended, Simone Bastick, one half
of the local singing duo 'Sim & Lus', took to the stage, providing a beautiful backing track to the sounds of the market.
With the next market to be held in the New Year, the market was a great chance to make a start on Christmas shopping and snag some brilliant local products as gifts.