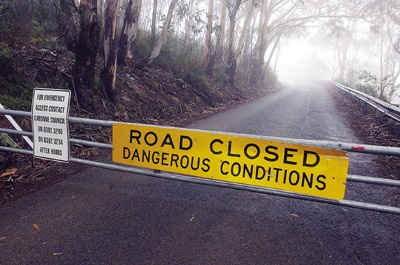 Those responsible for illegally opening locked gates on the access roads to Mount Canobolas on Saturday could have put lives at risk.
Two vehicles became stuck near the summit after a number of cars drove up the mountain on Saturday.
"Snow and ice on the roads made conditions dangerous for motorists, but someone recklessly removed locks on the boom gates and folded down the road-closed sign," Cabonne Council's General Manager Andrew Hopkins said.
Locks have been reinstated and the council is following up on information it has received about the illegal entry on the weekend.
"If the information is verified, further action will be taken," Mr Hopkins said.
The access roads remain closed this morning (Monday 7 July 2014) and a further inspection will be held about 2.30pm.
However with more snow showers forecast for Wednesday, it is highly likely the mountain roads will remain closed for remainder of the week.
Mr Hopkins said the council would endeavour to open the roads should conditions permit, but its priority is the safety of road users.
"If snow or ice make conditions dangerous, the boom gates on the access roads will stay closed," he said.
Mr Hopkins reminded motorists it is illegal to drive past a road-closed sign or tamper with boom gates and council signs.