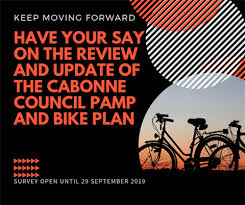 Constructive Solutions is working with Cabonne Council to update the Bike Plan and Pedestrian Access and Mobility Plan (PAMP). A vital component of updating the plans is gaining an understanding of how the community uses the current infrastructure, and identifying where community needs are not being met.
A Bike Plan and PAMP is a strategic action plan for Council, which provides a framework for developing safe, convenient and connected pedestrian and cycling routes, and identifies the need for specific facilities.
This ultimately allows Council to construct the required facilities, as once the plans are completed, Council will be in a stronger position to access grant funding from the State and Federal Government for works identified in the plans.
Views on the current infrastructure and where the community feel more work needs to be done are now being taken by a survey.
Visit https://www.surveymonkey.com/r/CKSKJXZ to take the survey. The survey can also be accessed through Cabonne Council's Facebook page. The survey will be open until midnight Sunday 29th September.