There's a high probability that you are relaxing as you read this article and flick through the other pages of your local newspaper or [their website]. In holiday seasons, such as Easter and Christmas, reader numbers leap because we all turn to the community newspaper to find out what is happening around us.

More than any other media, they can be relied upon to highlight and describe the numerous pubs and clubs, and social and other events that give a community its identity. This is why some 4.8 million readers turn to their local paper every month, and 3 million turn to their regional publication – a sizeable proportion of the 16 million who also read city and regional titles.
In these days of the internet and fragmented media consumption, pressure is being applied to the community newspaper model. Like all local businesses – for that is what your local paper is – it needs to focus on meeting the needs of its community and readers.
Those that attract a strong and engaged audience offer a valuable channel for local retailers and service providers to profitably grow their business alongside big brands such as Woolworths, Coles and Bunnings.
Some 62 per cent of readers visit a store or business because they've seen an advertisement in their local newspaper, according to marketing intelligence company Brand Navigator, which conducted a survey on behalf of the newspaper industry body, The Newspaper Works.
The survey supports the contention that most readers come to the local paper to find out what is going on in their community/ neighbourhood, and surrounding suburbs or towns.
Some 83% agree that community newspapers "keep me informed about local events and activities", and the same percentage say they "inform me about facilities, services and businesses in the area".
Of those, more than three in five readers say they always find something useful in the paper when they pick it up. Almost the same number (58%) say they find their local newspaper an enjoyable way to relax.
This 'central role' the local newspaper plays in many communities is a large part of the reason Cheryl Newsom decided to purchase The Canowindra Phoenix late last year.
"I grew up in Wagga Wagga and our local newspaper was The Daily Advertiser. In many ways it was a 'community bible'. It was very highly respected throughout our community as a forum for community news, opinions and really, for documenting and sharing our lives."
"I wanted to restore the Phoenix to this level of 'glory' so to speak. I believe it's an important means of promoting local initiatives, and focusing local consumers on supporting local business." Cheryl said.
Cheryl's perspective rings true of other publications across the country. More than 70% of local newspaper readers on the Central Coast consider their local paper to be their main source of information for events in the local area.
Further north, the same percentage of local residents say the same across the total delivery area of the Coffs Harbour Advocate.
More than three-quarters of residents (78%) in the delivery area of the Noosa News say they turn to the local paper for news of nearby events, council deliberations and decisions, local sport reports, school updates and community initiatives that shape their local area.
And in this era of digital media, it's not just the printed product that is revered in this manner. So too are the articles, stories and notifications posted to social media and published online at newspaper's websites.
Over 200 locals have started following The Phoenix's Facebook page since December 2013. That's a 25% increase in just 4 months! Furthermore, the level of engagement and interaction with readers at the page has grown exponentially in this time. Given the newspaper is published weekly, the Facebook page has become an important source of 'up-to-the-minute' information for the community, and a great way for readers to connect with Cheryl and her team and share their stories and news.
Despite the evidenced downturn in newspaper readership the world over, millions of Australians turn to their local newspaper to enjoy the world around them, be part of a community and, when you need one, find a plumber, real estate agent or sell that unwanted bunk-bed.
Even in this era of digital information, the community newspaper retains its place in the hearts and minds of all Australians.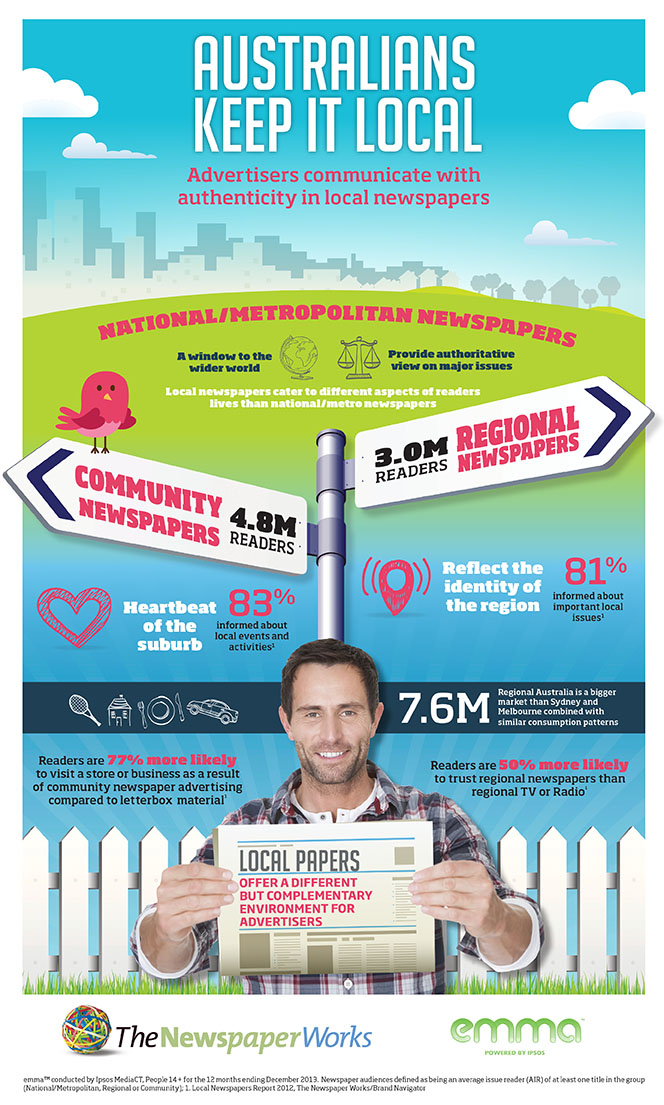 This article has been adapted slightly from a Comment Piece sent to us by Mark Hollands. Mark Hollands is CEO of The Newspaper Works and began his career covering births, deaths and marriages for his local paper.
The Newspaper Works is a not-for-profit body established to promote the newspaper industry in Australia. The Newspaper Works was founded in 2006 by Fairfax Media, News Corp Australia, APN News & Media and West Australian Newspapers to pursue a number of industry objectives including to promote newspapers as a powerful and influential medium for advertisers. The Newspaper Works also provides research, marketing tools and other support necessary to promote the value of newspapers to key target audiences.