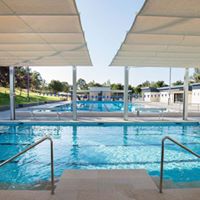 Do you want to have fun and improve your fitness? From 12 November on offer is aqua fitness at the Canowindra swimming pool.
Acting Community Health Manager, Ashley Wright said, "Exercises in the water are easier to do and less stressful on the joints". We will be running an hour session, which involves walking in the water, specific exercises for joints, aerobic exercises and cool down stretches".
It is important that the community know you do not need to be able to swim to take part in the classes. Physiotherapy Aide Angela Ellis said, "The aqua fitness classes over the past number of years have been a lot of fun, and participants felt their fitness and energy levels improved. There is increasing evidence about the benefits of physical activity. Exercising regularly reduces the risk of heart disease and strokes, improves muscle strength and balance, and helps with weight control, diabetes and high blood pressure. Above all, it makes you feel good. These classes are a good way to start or to provide variety, even if you already exercise regularly".
The aqua fitness classes will be held on Mondays and Thursdays from 9.00am to 10.00am from 12th November. The classes are for adult men and women, with newcomers welcome to attend.
The cost is $4.20 for pool entry unless you have a season ticket. You can register by calling into the Physiotherapy Department prior to the 12th November. Some participants may need medical clearance before they can participate in the classes, so register early to ensure you don't miss out on any sessions. For
further information, please contact Angela Ellis, Sue Johnson or Ashley Wright at the Canowindra Soldier's Memorial Hospital, Physiotherapy department on 6340 3017.