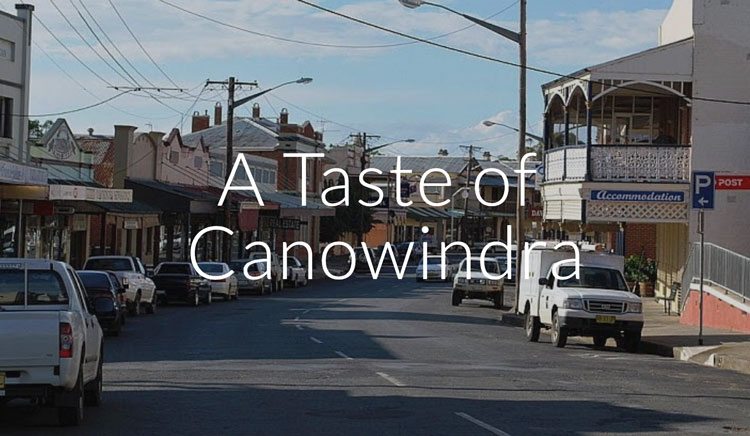 A Taste Of Canowindra is back for another cracking event in 2021. The day long festival is part of Orange's F.O.O.D Week and will take place on Saturday, 17 April. The event provides locals and visitors alike a chance to sample some of the wonderful food our region has to offer, against a backdrop of hot air balloons and bushranger tales with local arts, film and music to entertain merrymakers of any age.
Come join the yum and support small businesses right here in your own town!
Sunrise – 5:45am: Balloon spotting with Balloon Joyflights. Call 0428 441 819 for flights or meet at Delice Coffee on Tilga St at 5:45am for launch location information.
8am: Busking begins in the Canowindra Trading Post garden and around Gaskill Street.
9am: Bushranger Walking Tours commence. Call 0433 490 922
10am: Pasta making demonstration in front of IGA on Gaskill Street, using ingredients from a school kitchen garden.
10:20am: The Busking Competition begins out the front of Chiropractic Life Central West on Gaskill Street. The competition will run until 5pm. The winners will be announced at 5:30pm.
11am: Giant games (jenga, dominos, kerplunk etc.) will be available to play in Me-morial Park until 4:30pm.
5pm: There will be a secret flash mob performance by Alikinetic Dancers at Memorial Gardens.
7pm: FlickerKids/FlickerFest 2021 screening will be presented by Rosnay at The Palms pop-up open air cinema on Gaskill Street. Family and food packages will be available. For more information: www.rosnay.com.au/product/flickerfest-canowindra-17-april/
Fuel up with local nosh at the A Taste of Canowindra eateries available throughout the day and evening. Pop into local shops and galleries to check out all the lovely things Canowindra has to offer.
More information is available online: www.canowindrabusinesschamber.org.au/a-taste-of-canowindra