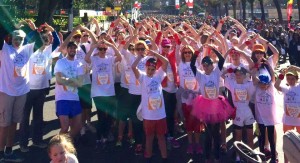 Canowindra's own City2Surf team came away from the event feeling proud and accomplished last weekend, not only in their efforts in completing the course but also in raising money for a special family on such a beautiful Sydney morning. "We have raised $31,000 in cash which is in the bank and we still have about $15,000 in pledges to come in," said team organiser Anne Ward.
"Soon we will get our DGR – deductible gift recipient status. It is hard to get but we are going through the processes and it will give us charity status." Anne said the team put in a fantastic effort in the lead up and on the day, and everyone really enjoyed taking part in the event to help the Read Family build a fully purposed home for three wheelchairs. "Ben is the youngest and the fastest in our team. At ten years old he finished the race in 1 hour and twenty-five minutes," Anne said.
"The slowest members of the team were Robyn Cleary and I because we had to stop for a toilet break and the line-up was twenty minutes long! We finished in three hours and nine minutes." Two Newcastle girls, Sophie Bell and Millie
Cantle, who are previous students at the Cornerstone Community also took part in the Raising a Roof team, raising $2,500 together by completing the course threelegged style.
"We are absolutely overwhelmed with the support we've had," Anne said. Well done to all those who participated and sponsored the team for this great cause.