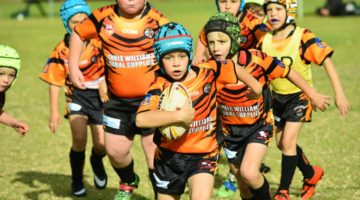 Canowindra Tigers Junior Rugby League Club would like to thank the sponsors for the 2017/2018 season. For the most part, teams have been sponsored by the same businesses for years. This is a tradition that speaks volumes for both the local businesses and the people that run them. The club would struggle without this support.
The money that they give Canowindra Junior Rugby League goes towards paying for jerseys for two seasons. At the end of the season, these are then given to the players as a keep sake of their glory days playing for the Tigers.
This also allows parents to get kids into a sport as cheap as possible, given that they have to pay for boots, headgear and travel to get them to games each weekend. The committee, the parents and most importantly, the kids are grateful.
The club committee wants to ensure that these local businesses get the recognition for their contribution because they are buying the kids of our community a chance to play a sport that they love in their own community that is steeped in tradition.
Below is a list of our major and minor sponsors. It would be great if everyone that reads this would shop local and support them, the money you spend with them is going to help them help the kids of this great town for many years to come.
Major Sponsors
• Under 8s: Chris Williams Rural Supplies
• Junior League Tag: Central Motors
• Under 10s: Canowindra Services Club
and The Shearing Shed
• Under 12s: Rob Burn Carpentry
• Under 14s: Canowindra Produce
• Under 16s: Garden of Roses
Minor Sponsors
• Aaron Earsman Builder
• The Royal Hotel
• Belubula Butchery
• McClintock's Canowindra
Junior Tigers will soon be calling for sponsors for the 2019/2020 season so that jerseys can be ordered in time for season start next year.
If you would like to be a part of this great tradition of support for the community, please give Kath Davis 0438 077 490 Michelle Burn, 0427 442 301 or Anthony Cahill 0427 660 157 a call.