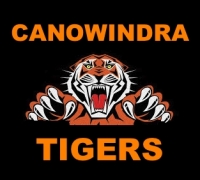 The Canowindra Tigers played Cargo in the 4th round of the competition on the weekend. Cargo got the first lead making the score 6-0 in the first 7 minutes of the game. Canowindra had good opportuni- ties close the line before scoring under the posts to even the score.
Cargo then ran the ball wide in the 21st minute to score again leading 12-6. Canowindra soon came back after running a coupe of good sets of 6. Baily Cain fol- lowed a kick through to then score next to the post. Baily also then converted to make the score 12-12 at half time.
"There has been a lot more enthusiasm this week and their attitude has turned this side around, there starting to dig deep now." Barry Traves said.
Cargo came out blazing in the second half scoring one after another. The tigers continued to fail to move up and help their teammates, resulting in the final score of 50-12.
"The tigers didn't execute in the second half, they dropped their heads and let it get away from them, then fatigue set in. We needed to be stronger in defence." said Barry Traves.
Tigers Points:
Players Player – Baily Cain
3 Points – Baily Cain
2 Points – Brydon Hughes
1 Point – Andrew Gallard and Alex Wilson
The Canowindra Tigers have a bye this weekend and will then play on Sunday 14th May, Mothers Day, at home. This will be a special day so be sure to come along for a nice day out and support the Tigers and Tigresses.
Tigresses Points:
Players' Player – Mel Frazer 3 Points – Sami Boog
2 Points – Kathy Davis
1 Point – Mel Frazer