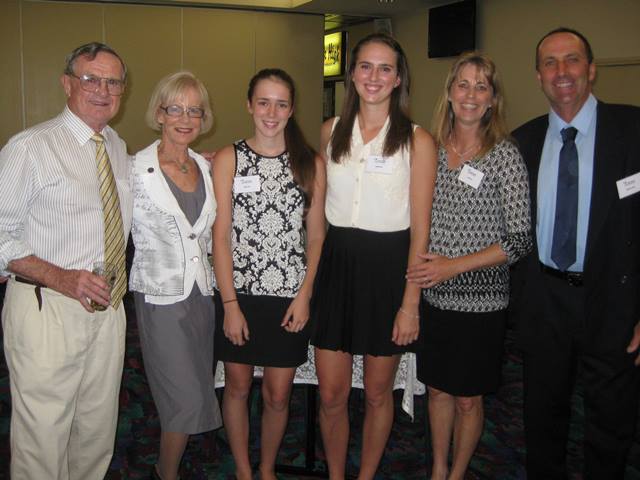 It was a great day for local women last Saturday as over 100 people attended the Australian Federation of Graduate Women- Central West Branch Dinner in Cowra. The dinner included the presentation of the $2000 Cowra- Canowindra Scholarship, which was awarded to Emily Price by Sue Brown, the co-ordinator of the scholarship program.
Emily is the daughter of Lisa and Matthew Price who moved with their family to Cowra five years ago. Emily studied at St Raphael's and Canowindra High School and has applied herself in all disciplines at school, showing ambition and motivation. She has also involved herself in the community, representing her school as Vice-Captain and excelling at local activities such as athletics and swimming. Emily achieved a Diamond level in the NSW's Premiers Sporting Challenge and referees junior school sports. Her involvement in agriculture saw her attend the Generation 2050 – Project Feed the World conference in Armidale in 2013 and she has helped at the local show in the cattle section. Emily will go to Charles Sturt University to study a Bachelor of Agricultural Science at Wagga. In her acceptance speech Emily paid tribute to her teachers and her family and noted that she is the first member of her immediate family to study beyond year 10 and attend university.
The guest speaker for the evening was former Canowindra girl, Jennie Beard, who is the founder and director of Polaris Coaching. Her address entitled "Leading a Purposeful Life – how to design the life you love" highlighted the importance of making the most of your innate gifts and talents. Jennie has helped many people through career transitions as well as women seeking to balance work and family life, a thing which still is subject to bias in some workplaces.
At the conclusion of the evening, the President Marianne Payten thanked everyone for attending and noted that it was wonderful to see so many current High School and University students in attendance. The money raised from the night will be invested for next year's scholarship. New members are always welcome to join the AFGW-Central West by contacting Marianne on 6342 6716.
CAPTION: Ian & Sue Brown with Kelly Price, scholarship winner Emily Price and Lisa & Matt Price.