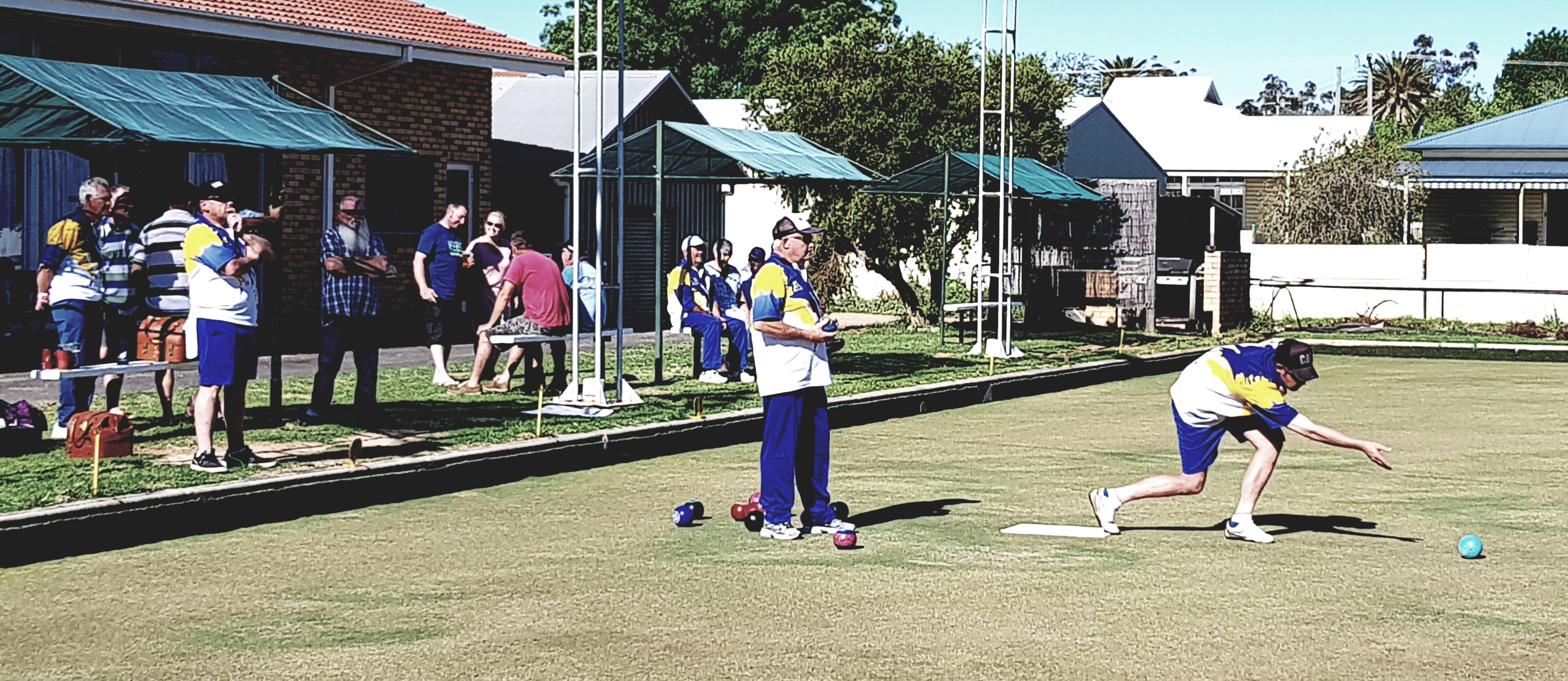 MEN'S BOWLS
Last Sunday a Minor Triples match was played with Nick Delaney, Paul Markcrow and Steve Kirkman against Larry Nunn, Garry Fairley and Tony Tuimauga. The scores were close throughout the game with the scores level at 19 all after 19 ends. Tony's team won the last two ends to win the game 22-19.
Saturday October 27 – O'Brien Cup – D Beath and K Walker v P Taylor and P Cassidy. Consistency Singles – M Cramp v R Symons and Marker TBA.
UPCOMING EVENTS:
Saturday November 10 – Ron "Gunner" Lynch Memorial Mixed Triples Tournament. Sponsored by Sue and Robert Lynch. $1,320 in prizemoney. Teams may be all females, all males or mixed. Play commences 9.30am. 3 games of 10 ends. $90 per team includes Chinese lunch.
Tuesday November 6 – 2018 Melbourne Cup. From 12.00 noon. Bookings essential. $10 lunch specials. Sweeps. Best dressed prizes. Rockstar fashion parade.
Canowindra Bowling Club is participating in Buy a Bale supporting Aussie farmers. Help the club to donate by buying a sticker for your truck over the bar.
Sunday badge draw will be $1,500 drawn between 5pm and 6pm. Must be in the club to win. Raffles drawn at 5.30pm with tickets on sale from 4pm. Friday badge draw will be $700. Bingo this Thursday 11am.
WOMEN'S BOWLS
A very successful Fun Day was held on Tuesday, 23rd October with 14 teams and 42 players. Visiting teams from Parkes 2, Cowra, C.W.D, Orange City, Orange Newstead, Millthorpe and Molong plus 6 Canowindra teams. The winners on the day were the Canowindra Team of Liz Thornberry, Joan Bailey (Cowra) and Jo Davies. The runners-up were the C.W.D. team Marion Wilson, Libby Balcombe, Robyn Oliver and Heather Hoad.
The raffle winners were Bowls Bag – Vera Penagy, Rug – Jill Messenger and Plant – Maree Haigh-Cole (Orange City). The Lucky Draw winners were Linda Miller and Colleen Burrell, Jill Messenger and Lorna Coady and Shirley Robson and Jill Messenger.
There was a great response to the Dressing Up by the bowlers, the winner being Maree Haigh-Cole (Orange City). Lucky No. on the plate was won by No. 51 Joan Bailey (Cowra) and No. 55 Rhonda Went (Parkes). Lucky No. on the cards 55 Annie Walker (Forbes) and 88 Jan Waugh (Forbes).
Our special guests were the following Canowindra Hospital Auxiliary members, Jenny Weaver, Annette Lynch, Lorna Coady and Peggy Beath, also Mark Wright (Sparky) who did the greens for us.
President Betty wishes to sincerely thank all who helped set up on Monday 22nd, the ladies who provided the morning tea and especially for preparing the very tasty lunch and the bowlers who provided the lovely sweets, also to the friendly bar staff.
Penny Nash, Liz Thornberry, Betty Jenkins and Gwen Haydon competed in the Parkes President's Day held on Tuesday 16th October. They were the runners-up for the day and also won three spider prizes. Penny Nash, Liz Thornberry, Joice McNaught and Betty Jenkins competed in the Orange Newstead Gala Day hosted by the Country Club on Thursday, 18th October. No trophies but they all enjoyed a day of bowls and fellowship.
I wish to correct a typing error I made in the Canowindra Phoenix Thursday 11th October, the Lucky Draw on Tuesday, 9th October was won by Tracey Bates not Bayed.