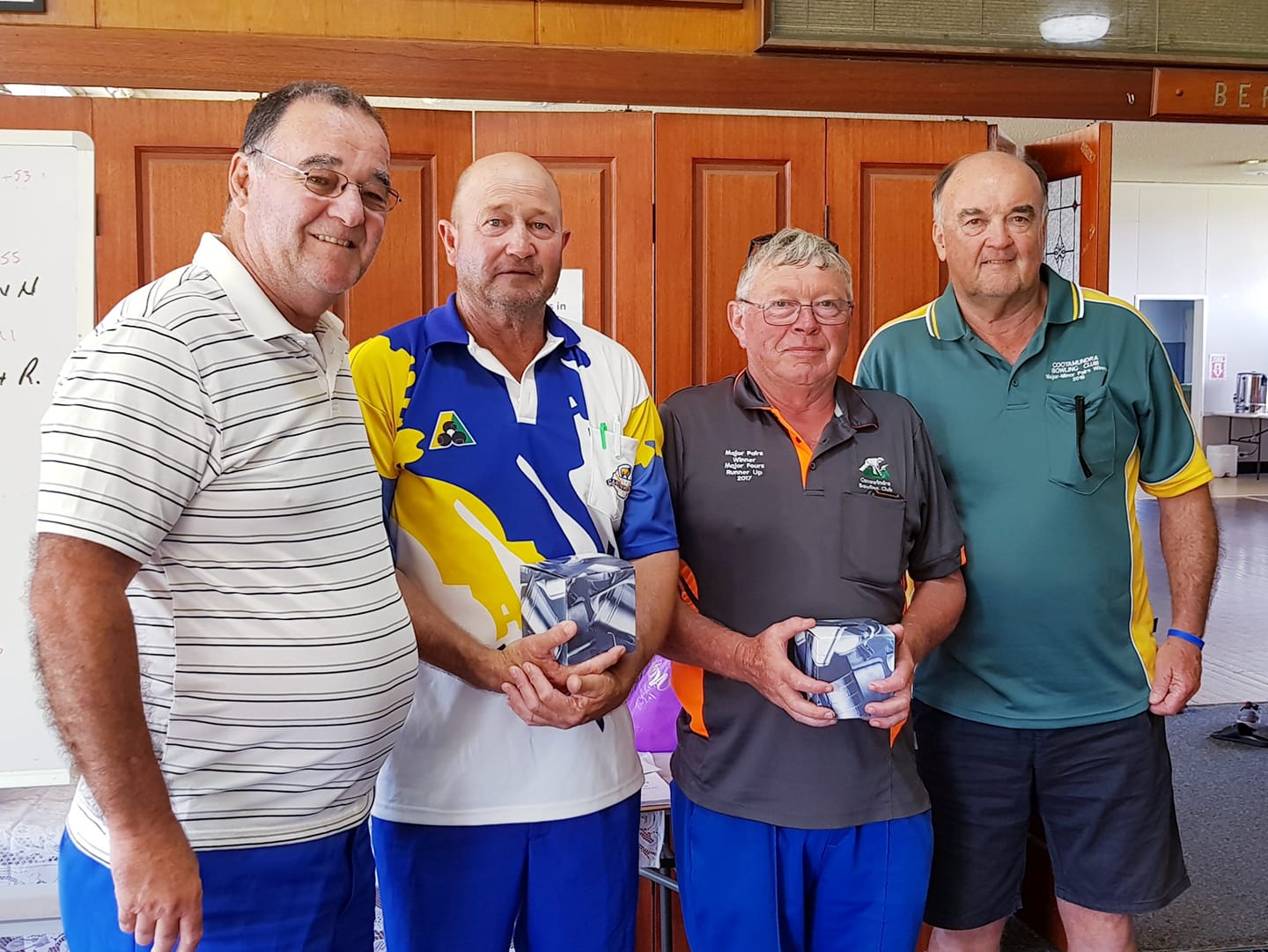 MEN'S BOWLS
Last weekend our club held another successful anniversary tournament even though the number of teams were down on previous years. The winners of the anniversary triples were the team of Bruce and Cyril Webb and Steve Kirkman and the runners up were the team of Roger Traves, Peter Taylor and Phil Lees.
The other semi-finalists were the team of Teddy Lawrence, Tubby Worboys and Westy Wyburn and Barry Jones' team from Grenfell.
The winners of the Ron Worboys Memorial Pairs were the team of Roger Traves and Peter Taylor and the runners up were the team of Teddy Lawrence and Westy Wyburn. The other semi-finalists were the team of Dool Beath and Vinnie Mirto and Ray Walters' team from Grenfell.
Tubby and Graham Worboys were in attendance representing the Worboys family in memory of their father. Thanks to Roger Traves and Dool Beath who co-ordinated the tournament. Thanks to the restaurant staff who provided a beautiful Chinese buffet lunch and also thanks to all our sponsors.
Friday February 1 – Twilight barefoot mixed mufti bowls with names in by 6pm for 6.30pm start. One game of 15 ends being turn around triples.
Saturday February 2 and Sunday February 3 – Our club will host a section of the Zone Presidents Pairs. Good luck to Roger Traves and Peter Taylor, Teddy Lawrence and Barney Robson, Ian Nelder and Steve Kirkman who will be competing.
Sunday badge draw will be $400 drawn between 5pm and 6pm. Must be in the club to win. Raffles to be drawn at 5pm with tickets on sale from 4pm. Our club will present live music from 3pm by Daphne Brooks. Friday badge draw will be $800 and Bingo this Thursday at 11am.
By Ian Nelder
WOMEN'S BOWLS
There were two games of social bowls played on Tuesday, 29th January. Linda Miller, Libby Balcombe, Gwen Haydon and Dianne Mooney defeated Colleen
Crump, Leanne Stevenson, Deanna Noble and Jo Davies 11-4.
Daph Bryant, Sandy McDonald and Betty Jenkins defeated Diane Slattery, Liz Thornberry and Sheryn O'Malveney 15-9. Actually the bowlers were practicing for the District Pennants which begin on 19th March. Canowindra are playing No. 2's and No. 4's. Moyna Rue is Manager of the No.2's
and Jill Messenger is Manager of the 4's.
The Lucky Draw was won by Sandy McDonald with No. 12.
Congratulations to Leanne Stevenson who was awarded Canowindra Citizen of the Year at the Australia Day Ceremony. We have four of our members who celebrated birthdays this month Nancy Morrow on 2nd, Leanne Stevenson on 12th, Libby Balcombe and Merlene Byrnes on 18th. A very happy birthday to you all.
Liz Thornberry and Leanne Stevenson were recently in Melbourne for the Australian Open Tennis and very much enjoyed watching the matches being played during the day and at night.
Our next monthly meeting will be held on Tuesday, 19th February after bowls.
By Shirley Robson