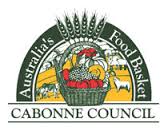 Cabonne Council is extending time to comment on projects to be included in the Council's Village Enhancement Program, providing an opportunity for residents who may be on holidays during January to have their say. The Council is seeking feedback on proposals
identified by various community groups and is asking residents to indicate their priorities for projects. Residents are also being asked to suggest projects in villages where none were submitted by local organisations.
Despite a strong response from the community by the original deadline of January 5, the Council's General Manager Stephen Harding has extended the cut-off date until February 9. "We've received an extensive range of submissions for projects throughout Cabonne,
but I would not like people who were away during the holiday period or may have been too busy over Christmas and New Year to miss out on having their say," Mr Harding said.
A full list of projects identified by various community groups can be viewed in the News section on the home page of Council's website www.cabonne.nsw.gov.au Submissions should be mailed to the General Manager, PO Box 17 Molong 2866 or emailed to council@cabonne.nsw.gov.au by Friday 9 February 2018.