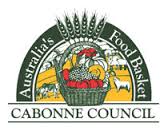 The Cabonne Council elections will be held on Saturday, 9 September 2017. It is the first time since 2012 that all residents have had the opportunity to vote for who will represent them on the council. At the election people will vote for the councillors, with 12 councillors to be selected to represent the Cabonne region.
Voting is compulsory for everyone enrolled in the council area so now is the time for everyone to check their enrolment details to make sure they are up to date. If you are considering nominating as a candidate for the election you must nominate with the Returning Officer – Ross Baker between Monday 31st July to Wednesday 9th August 2017.
Every candidate is required to lodge a candidate information sheet with their nomination. In addition to being nominated, candidates
must be registered and have an official agent before accepting political donations or making payments for electoral expenditure.
The NSW Electoral Commission is managing the election for Cabonne Council. To check your details and for everything you need to know about the election visit the NSW Electoral Commission website: www.votensw.info or call 1300 135 736.