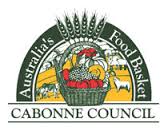 Cabonne businesses could be eligible for up to $10,000 in dollar-for-dollar funding under a new State Government program to accelerate their businesses into new markets. Deputy Premier and Minister for Regional NSW John Barilaro has announced a new $500,000 Murray Darling Regional Business Accelerator Program fund to support businesses in the Murray Darling Basin to undertake new marketing or technology projects.
Mr Barilaro said the program will offer matched funding up to $10,000 for activities including website development, digital media campaigns, or new product packaging. "Businesses in regional NSW grow and manufacture products that are in demand across the world, and we want to continue to increase our exports to these markets," Mr Barilaro said.
"This fund will allow the many agricultural and manufacturing businesses already exporting out of the Murray Darling Basin to reach more customers, and in turn employ more people and continue to invest in their local economies," he said. The program also supports traditional expansion methods, such as exhibiting at trade shows and multi-channel advertising campaigns.
The Murray Darling Basin Regional Business Accelerator Program is open to eligible businesses based in the Murray Darling Basin that can demonstrate growth potential beyond local markets and which are not solely reliant on local markets for sales.
It is funded by the Commonwealth Government's Murray Darling Basin Regional Economic Diversification Program, which is administered by the NSW Government. For further information about the Murray Darling Business Accelerator Program and guidelines, please contact your local NSW Office of Regional Development.