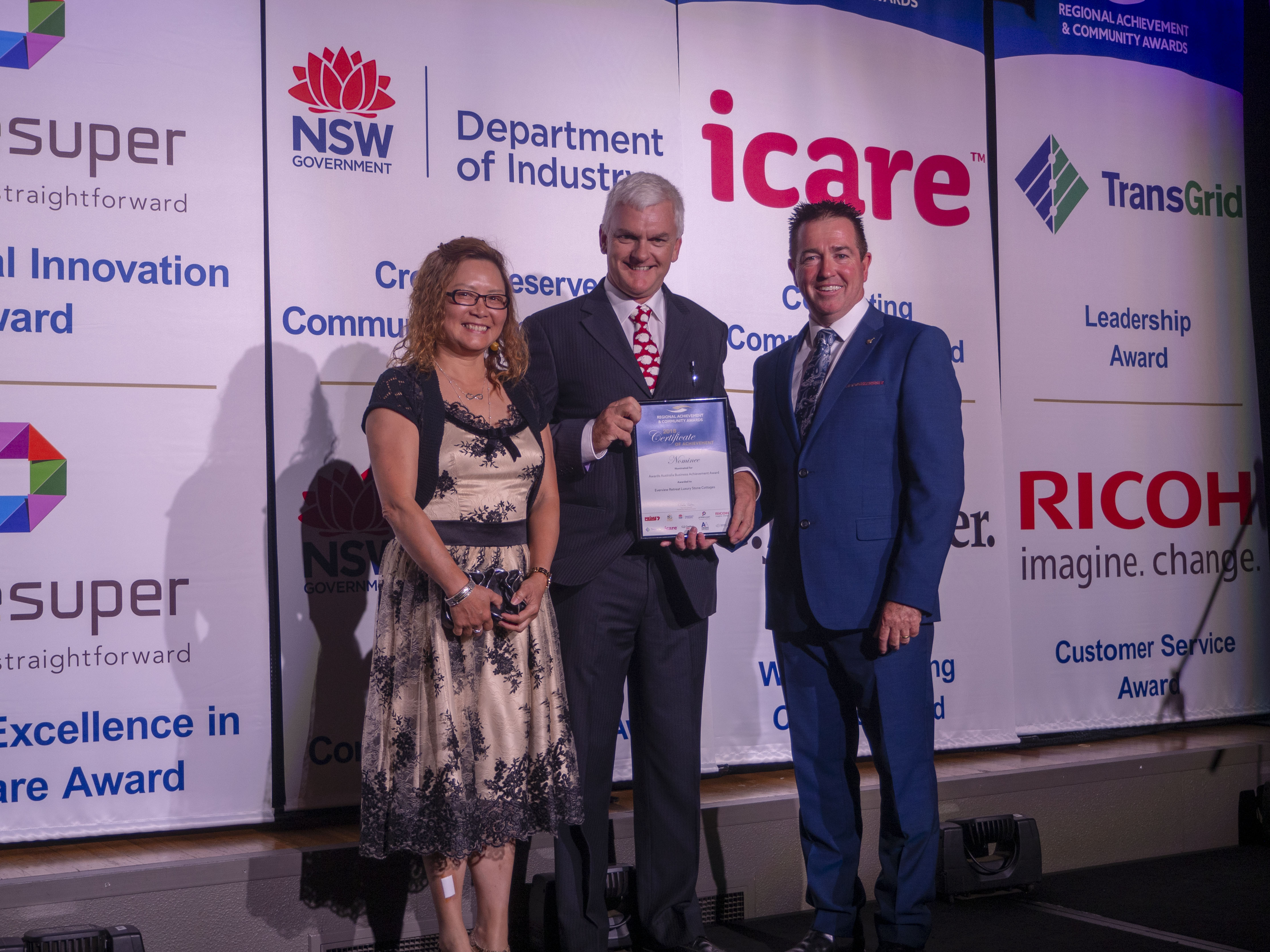 Everview Retreat Luxury Stone Cottages was presented as a Nominee in the prestigious Australia Business Achievement Awards, by The Hon. Paul Toole MP, Minister for Lands and Forestry at the 2018 NSW/ACT Regional Achievement and Community Awards Presentation Gala held at Orange Ex-Services' Club on Friday 16th November.
The Awards were hosted by Floyd Cush, PRIME7 News and over 250 guests gathered from across New South Wales and the ACT to celebrate regional New South Wales and the ACT's high achievers. Everview Retreat Luxury Stone Cottages of Canowindra was built 17 years ago from rock harvested from the property. Everview has been a significant contributor to tourism and the local community with world class accommodation, an aquatic centre, and a wedding and function centre.
The nine category winners were:
• Orange Waratah Sports Club: NSW Department of Industry – Lands & Water Crown Reserve Corporate Manager Award
• Norah Head Lighthouse Land Manager: NSW Department of Industry – Lands & Water Crown Reserve Community Manager Award
• Len Waters Culture Tours of Daruka: Ricoh Australia Customer Service Award
• Anika Molesworth of Broken Hill: Prime Super Agricultural Innovation Award
• Dr Daisy William of Armidale: TransGrid Leadership Award
• Mackellar Care Services of Gunnedah: Prime Super Employer Excellence in Aged Care Award
• The Big Green Cup Café of Bungendore: G.J. Gardner Homes Women Creating Change Award
• Southern Cotton of Whitton: Awards Australia Business Achievement Award
• Orange Sky Laundry Newcastle: icare Connecting Communities Award
8 winners each received $2,000 courtesy of Awards Australia and a trophy, and the other winner received an air time package on PRIME7 and trophy.