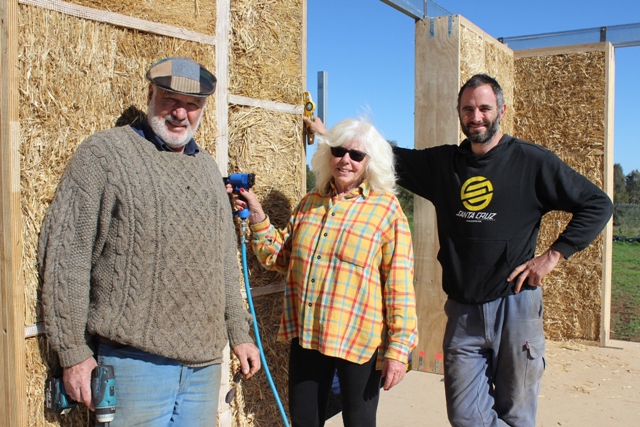 A new home is going up with a spectacular outlook of Canowindra and its surrounds up in the crisp country hills. But this house is a little bit different to what you might expect; it's not a timber or brick home, but a home built from hay.
A new building innovation using super insulated tilt up panel systems (SITUPS) is a modern environmental building method descibed as sustainable, aesthetically pleasing and thermally and acoustically efficient. It took Sam Statham and his father Richard only 8 hours to put the straw walls up after the foundations for the house were completed in 8 days.
"The interesting thing about this kind of construction is that they're prefabricated walls," said Sam, who is no stranger to building houses with hay. "We built our first house fifteen years ago out of straw using the traditional
method at the time." "The first thing to do when building a house is to just stop being scared," Sam said. "The main thing I've learnt is that this method is
user friendly for other builders."
Susan and John Glassford of Huff 'n' Puff Constructions are dedicated, enthusiastic contractors with over 18 years of experience. Located out of Ganmain, a tiny town west of Wagga Wagga, Susan and John are now helping
the Statham Family build a home using these environmental building practices. "It took us a long time to get this product on the market, we're self-funded; 8 years in research and development to get them out," said Susan. "You save money on the essentials due to the thick walls and the hay in the SITUPS is compressed tight."
"We'll get the roof on and get the rendering done and get a few people out here to do the fit-out for us," Sam said. They are hoping that construction will be finished before the end of the year.