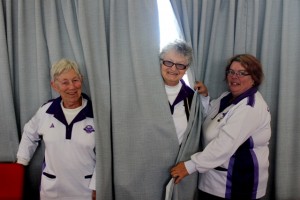 The new curtains are up at the Canowindra Bowling Club and the ladies of the club are excited to see the rest of the transformations take shape. With the new carpet being put down in the very near future and a brand new dishwasher on the way, everyone is excited about the Club's new look taking shape.
"The new curtains went up about three weeks ago and they came up really well," said Ladies Club President Sheryn O'Malveney. "They looked great during the last function we had." The Ladies Club Vice President agreed saying
"I think they're great!" "Having the new dishwasher will make a real difference too," said Diane Slattery from the Club.
Diane and a few of the other ladies from the Bowling Club will be taking part in an upcoming production of the hit musical Grease to raise funding for the carpet upgrades. "All systems are go for the show," says Tommy Jeffs from Deli Lama who is at the forefront of the fundraising efforts. "There are only 30 tickets left so get in and get them! Don't leave it to the last minute or you'll be
disappointed."
The format for the evening will be a 50s style show featuring performances by Dean Martin, Frank Sinatra, Connie Francis and Vicki Lawrence to name a few. There will be raffles and door prizes announced before the production of Grease, as well as guest performances, local celebrities and an appearance from the divine Talulah. An Italian buffet is included in the ticket price with the room being dressed in an Italian style and two buffet tables with lots of
pasta, breads and salads.
This is the culmination of Tommy's fundraising efforts for the Canowindra Bowling Club and everyone is encouraged to help celebrate the affair by dressing in 50's style costume. Tickets are available at Deli Lama but they are running out fast. Get in quick before you miss out!