Each year the Canowindra Balloon Challenge helps raise money for a charity or not-for profit group. This year, the committee has chosen to raise money for beyondblue through an Ambrose Golf Day and our very own Cabaret – Tallulah Style Artiste starring Tommy Jeffs.
Depression and anxiety are the most prevalent mental health disorders in Australia, with 1 in 3 people experiencing depression and/or anxiety at some point in their life. Unfortunately, only 35% of people affected access professional services. beyondblue are dedicated to reducing the impact of depression and anxiety whilst working towards achieving an Australian community that understands depression and anxiety, empowers people to seek help and supports recovery, management and resilience.
"I am delighted the Canowindra Challenge team have formed a working relationship with beyondblue. Mental health is high on Council's agenda and any platform which opens discussion and access for support, has my backing", stated Andrew Hopkins, Cabonne Council General Manager.
"beyondblue was a natural fit. There is a common thread to the feedback we receive from all visitors and residents alike. People just seem to feel happy when they see balloons flying high in our blue skies. This follows from the existing terrific work being conducted by Canowindra Community Health", said Arthur Falconer, Canowindra Challenge Inc Chairperson.
Canowindra Community Health has been working in association with health providers and the Depression, Anxiety Awareness Group Support who were responsible for bringing Angry Anderson to Canowindra last year.
The YBM Ambrose Golf Day will be held from 9am on Thursday 24th April at the Canowindra Golf Club, and everyone is invited to attend to support this great cause. To book a team of three, please contact the Golf Club on 6344 1342.
For those who were unable to experience Tommy's last show, don't miss out this time! Tallulah Style Artiste will be gracing the stage on Tuesday 22nd April at the Canowindra Services Club to tribute all our beloved female artistic icons. Starts at 7.30pm and tickets are $35pp. and can be purchased from the Services Club prior to the show. Book early to save disappointment.
For more information about these events please contact Caddie Marshall on 0499 773 132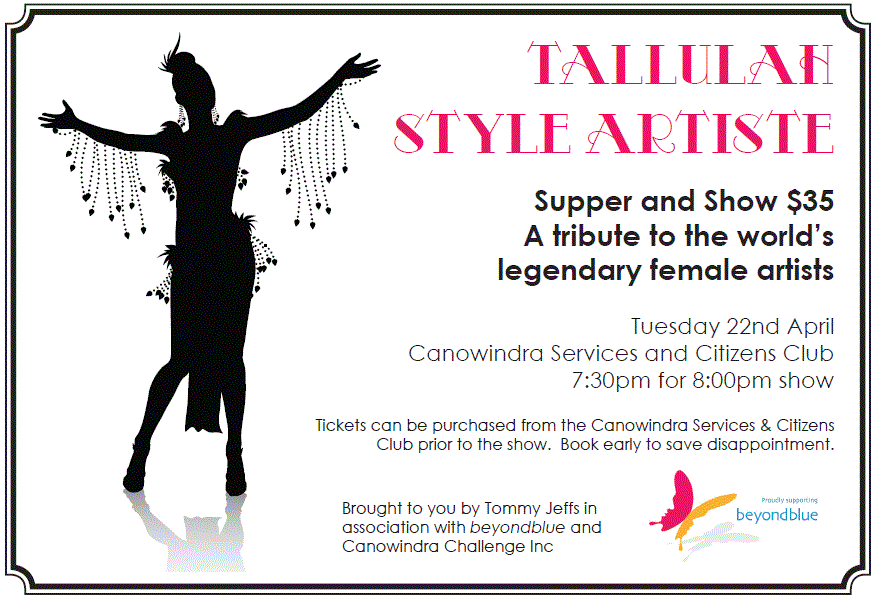 By Caddie Marshall