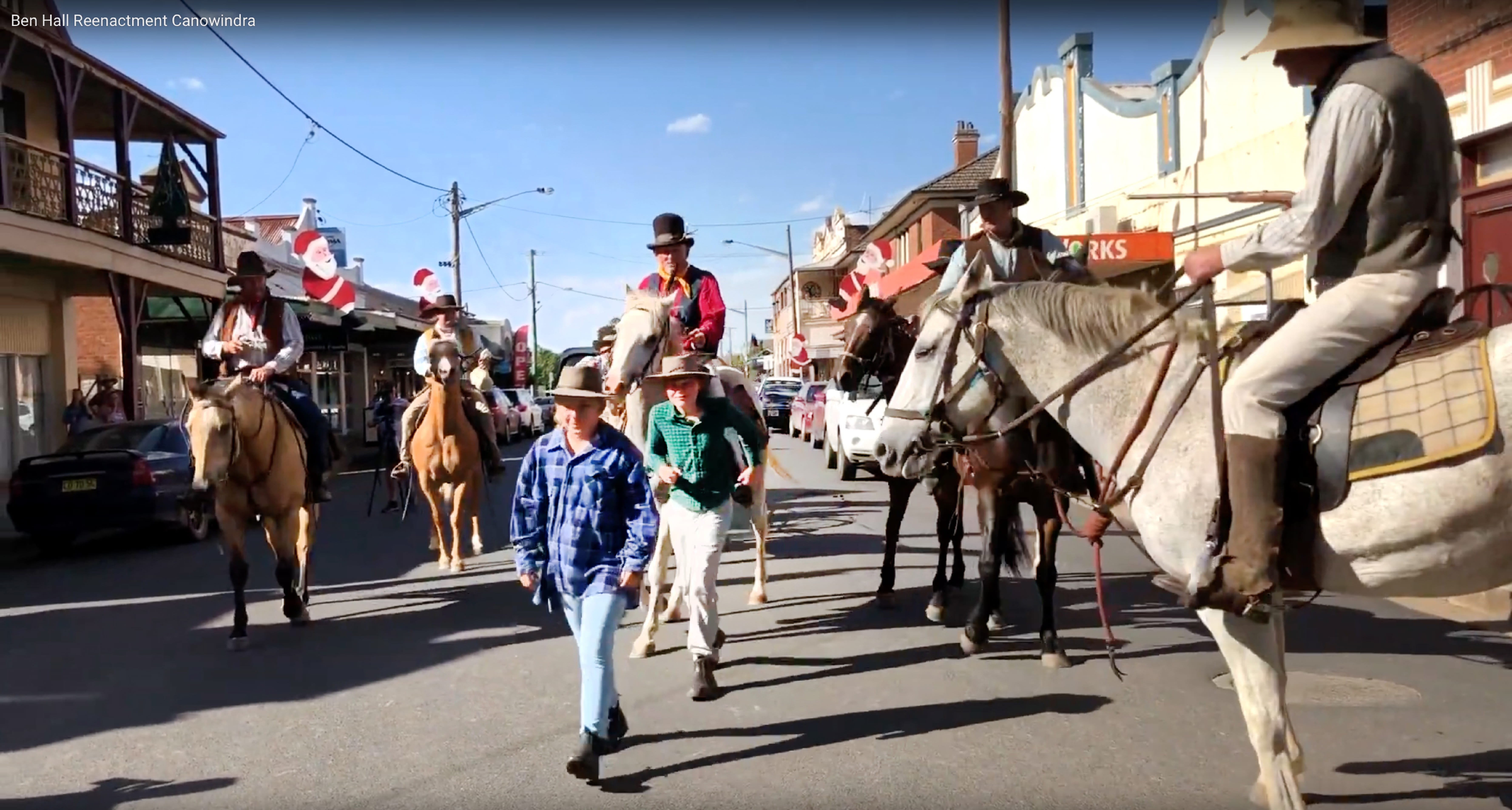 An international web-based broadcast that involved short films made by students from Central West schools themed around the activities of infamous goldrush-era bushranger Ben Hall and gang has won the prestigious Museums and Galleries National Award (MAGNA) for Orange Regional Museum.
Devised and delivered by Orange filmmaker Vince Lovecchio and Bathurst children's book author Paul Stafford (working as The Project Zone), Bigger than Ben Hall broadcast live from Canowindra via videoconference to nearly one hundred schools in NSW and USA.
It featured a re-enactment of the gang's notorious three-day 'Siege of Canowindra' with local horsemen led by Matt Rice as bushrangers closing the main street of Canowindra and robbing a Cobb & Co coach and wealthy squatter's sulky. They then shepherded locals and visitors into the Royal Hotel, site of the original siege which involved a three day-long, bushranger-funded party. The short film festival, anchored live by student stars and bushranger author and historian Craig Lawler, followed a Welcome to Country by Wiradjuri Elder, Aunty Esther Cutmore.
Films broadcast included two from Canowindra Public, with a retelling of the planning that went into the three-day party, and another covering the final police shooting of Ben Hall. St Joseph's Eugowra took a comical look at how a gang that managed to pull off the largest gold robbery in Australian history couldn't organise themselves to bring enough horses to carry it away.
'The project grew out of a concept program we created called History Here, which helps students identify, research, script and film events from their local history,' said Paul Stafford. 'Many participating schools wanted to cover their bushranger activity, so we decided to theme it around the Ben Hall gang's activities.'
'This project represents a major collaboration with the Department of Education to create a special, one-off broadcast for the last day of school in 2018. They provided the web-platform, equipment, personnel, and tech support, which enabled us to broadcast internationally,' said Stafford. 'The participating schools were stoked, it involved lots of strong learning outcomes like writing and research, helped students contextualise, own and re-interpret their local history, and embedded STEM elements like green-screening and international web-based content delivery. Bigger than Ben Hall took widespread community involvement, massive in-kind support and goodwill and lots of fake beards.'
The research component of the project involved schools linking up on-line with Mitchell Library, whose digital archives include a substantial collection of Ben Hall correspondence, weapons, wanted posters and memorabilia. A special collaboration negotiated between project partners meant curators of the collection were made available to assist students to identify and interpret material pertinent to their particular bushranger incident.