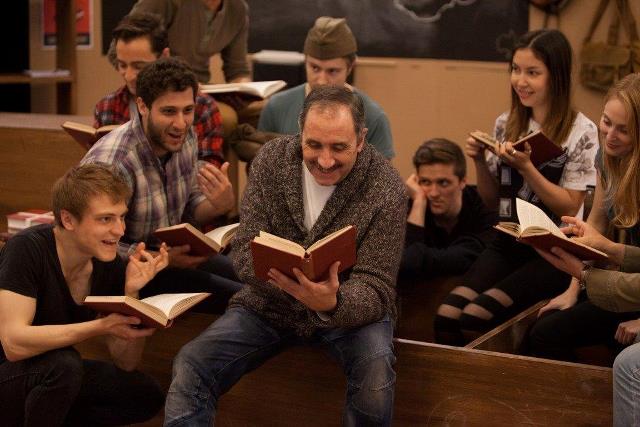 Image: The cast rehearsing for Henvy V
Support The Clark's
If you're not sure how to spend your weekend, spend it helping a family in need. Head to the Services Club on Saturday at 6pm for a Trivia Night to support the Clark family. Tickets are available from Duck IT and are $20 for what is an extremely worthwhile cause.
Orange Ex-Services Club
SKYZ the LIMIT is a musical duo formed by Margaret Britt and Micheal Derwin. They have toured all over Australia over the last ten years, refining their performance into a show that will blow you away with vocal and instrumental virtuosity! SKYZ the LIMIT will play rhythm and blues, rock, soul, reggae, latin, country, swing and many more genres, taking you on a journey not only through much but through the 50's straight through to the present day. The accomplished twosome will be performing this weekend at the Orange Ex-Services Club from 8pm onwards.
Royden Donohue is already a familiar name in Australian country music. Over the past few years, the talented young American has released four independent albums — Born To Be A Heartbreaker, Rope The Moon, Solitary Man and Kentucky Rain. Though hailing from the US of A he has a solid fan base in Australia and has toured here five times. In fact, whilst on one of his tours in NSW he had a near fatal road accident! The trailer from a truck clipped Royden's caravan, causing it to roll over on top of his car. Royden quickly leant into the middle of the car and an encore road case (of all things) miraculously held the roof up over him, preventing it from caving in. Let's hope this visit to NSW is filled with less danger and more dancing! Royden will be performing on the 20th September.
Orange Civic Theatre
The cast of Henry V are coming to Orange Civic next weekend. This Bell Shakespeare production is a tale of a king who unites a nation, told through the voices of boys sheltering from the Blitz during WWII. Director Damien Ryan has an affinity for the play that is evident in the way he describes it, 'It's the eloquence of this story that has always captured me. It's a celebration of courage, determination…and the eternal rite of passage that turns boys into men, war. But is also a horrifying indictment of our addiction to conflict."Lucky theatre lovers will also have a unique opportunity to meet with the Bell Shakespeare Company on Thursday 11th September at 6pm. In this meeting they will hear the actors speak about how the production was developed and how they have interpreted one of Shakespeare's finest history plays, prior to seeing the performance on Friday or Saturday. For more information contact Orange Civic Theatre on 63938111.