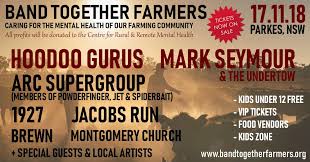 On Saturday November 17th, 2018 a number of Australian music legends will donate their time to perform at Band Together Farmers, in Parkes, NSW. The event will raise much needed funds for rural mental health and suicide prevention, with funds going to the Centre for Rural & Remote Mental Health (CRRMH), who play a key role in supporting rural communities during the drought.
The Centre for Rural and Remote Mental Health is based in Orange NSW and is a major rural initiative of the University of Newcastle and the NSW Ministry of Health. The Centre and its staff, located across rural NSW, are committed to improving the mental health, wellbeing and resilience of rural and remote people and understanding and responding to rural suicide. The CRRMH supports farmers and their communities through the long term consequences of drought, fire and flood.
Headlined by the Hoodoo Gurus & Mark Seymour (Hunters & Collectors), the event will also see 1927, ARC Supergroup with members of Powderfinger, Spiderbait & Jet, Jacobs Run, Brewn and Montgomery Church play from 1:30pm. Special guests and local artists will also feature during the afternoon. Gates open at 1:00pm.
The event is proud to have several major sponsors on board, including Clean TeQ Sunrise, REX Airlines, Stage Kings, Green Room Productions, Abandon Ship Productions, Orange Wine Region, Coates Hire Parkes, Parkes Services Club, ABC Radio and Destination Country & Outback NSW.
It is anticipated that many people will travel to the area, providing an injection into the local economy, a positive flow on from the event being held in regional NSW.
Kids under 12 are free and welcome to the event, with all activities provided on the day. Tickets on sale now at www.bandtogetherfarmers.org